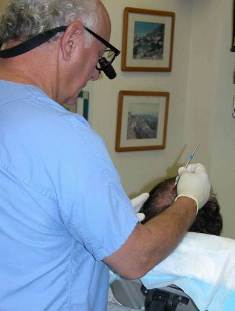 Both Dr. Tessler and his associate Dr. Aronovitz have been exclusively performing hair transplantation for over ten years. They have been very involved in the evolution of follicular unit grafting and now perform highly refined follicular unit grafting.
Both Dr. Tessler and Dr. Aronovitz carefully create all the incisions for these refined follicular unit grafts using very tiny custom cut blades. By carefully controlling the angle and direction of these incisions he creates a very natural pattern and direction for the new hair, even in the temple and sides.
Their work, staff and clinic are truly first rate from start to finish – from the careful removal and closure of the donor area to the careful microscopic trimming and handling and careful placement. At every step of the procedure they strive to produce optimal results.
For example, both Dr. Tessler and Dr. Aronovitz use six power magnification loops while creating graft incisions in order to get optimal visualization of the recipient area so that they can see even fine vellus hairs and thus make incisions around them.
This attention to detail and high level of care is just one example of what distinguishes them from the merely good enough surgeon. Cumulatively all these extra efforts produce outstanding results.
I'm struck by how outstanding their work is and how little people on the Hair Restoration Research Forums and other forums know about them. They have an outstanding reputation in the Detroit area. But since few of their patients found them online, there is little information about them on the forums.
Some physicians just quietly do outstanding work and often fly under the radar online. I certainly hope that this report helps provide them with long over due recognition for their hard work.
In short, outstanding surgeons and their staff care about the work they do at each step and it shows in their patient results.
View more photos from this surgical visit.
View highlights from visits to other leading hair transplant clinics.
Pat Hennessey,
Publisher
Technorati Tags: follicular unit