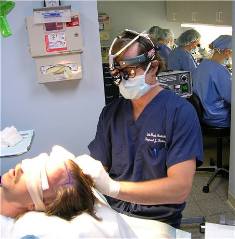 When I visit a truly excellent A+ hair transplant clinic I leave inspired and confident in knowing that patients who find their way from our website to this community will achieve outstanding results. The patient may not fully appreciate how exceptional this clinic's work really is. But the physician and staff know it and for them their pride in doing their very best for the patient is its own reward.This was true in spades for Dr. Konior and his staff. I have visited the Chicago metro area on more than one occasion to identify quality hair transplant services and in my opinion Dr. Konior and his clinic are way ahead of the next best option in the Chicago area. In fact, their clinic and procedure rank among a handful of world class hair transplant clinics in North America.
From the moment a hair loss sufferer contacts their office the long term interest of the patient is put front and center. Tom Ruiz, who is the patient educator for the clinic, often advises those who contact their office to consider using Propecia for several months before even considering a hair transplant. Both Tom and Dr. Konior emphasize education and patient empowerment when they meet with potential patients. And why not – because the more patients learn about hair transplant surgery the better they look.
With an outstanding reputation among his colleagues and patients, Dr. Konior is often booked months in advance. Yet even with such high demand for his services he rarely does more than one hair transplant patient a day because he believes that a patient deserves he and his staff's full attention from beginning to end. He is known for virtually never leaving the surgical room from the start of surgery to the very end. Dr. Konior even personally places a large portion of his patient's grafts. Such "hands on" attention is very rare these days.As Dr. Konior put it, he and his staff work to produce "one Ferrari rather than three or four Fords in a day".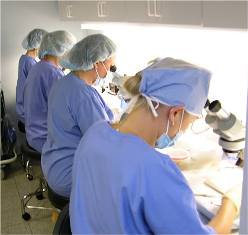 His staff is exceptionally experienced, loyal and committed to quality. His lead technician has worked with him for over 13 years and his other technicians are also long time employees. It was clear from speaking with his staff that they respect Dr. Konior and take great pride and ownership in their work.

Despite his relaxed nature, great patient rapport and down to earth composure Dr. Konior is a true perfectionist. This is a disease that afflicts almost all of the very best hair transplant surgeons I've met. He constantly strives to make he and his staff's procedure and process the best it can be and in my opinion they have succeeded.

From the start of the surgical procedure I witnessed I was struck by the extreme care and time Dr. Konior took in removing the donor tissue. Every care possible was taken to avoid transecting (severing) any hair follicles in the donor area to assure that every bit of the patient's precious limited donor follicles were preserved. The carefully harvested donor tissue was then meticulously trimmed by his technicians under microscopes into very refined follicular unit grafts.

These follicular unit grafts are then placed into tiny minimally invasive incisions. Dr. Konior makes these incisions so that the transplanted hair will grow at the proper angles and directions to assure a natural appearance.

The patient shown in the below photos was in his late forties and given his ample donor hair and limited baldness was an excellent candidate for a dense packed session of grafts to restore a full hairline with one session.This patient did his research online and found his way to Dr. Konior based on his merits rather than "marketing hype". Great to see the promise of the Internet working to help a hair loss sufferer find a real gem in the rough clinic.
View more photos from this visit to Dr. Konior's clinic.
View more visits to leading hair transplant clinics.
Pat Hennessey,
Technorati Tags: hair transplant, hair loss, Propecia, hair follicles, hairline