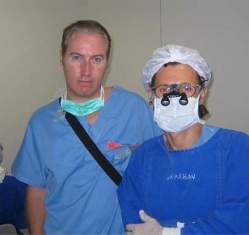 Over the past few years I've enjoyed meeting Dr. Arthur Tykocinski at the annual ISHRS hair restoration meetings. I also found his presentations to be very cutting edge and insightful. One such presentation explained how by using smaller and less invasive blades surgeons could make more incisions in a given area with out increasing the overall trauma to the recipient area.
Thus a surgeon could successfully densely pack more grafts hair in a single surgical session. Dr. Tykocinski was really on the cutting edge of the emerging Ultra Refined Follicular Unit Grafting.As young physician Dr. Tykocinski eagerly embraced the newest evolutionary techniques including ultra refined grafting, cut to size custom blades and lateral slits.
When he invited me to see him perform hair transplant surgery in Sao Paulo, Brazil in January of 2005 I decided to make the trip to see what promised to be a truly cutting edge surgery and an interesting country.Arthur opened my eyes and mind to what has become the cutting edge in hair restoration surgery – Ultra Refined Follicular Unit Grafting with careful graft orientation. The week I spent watching him in action and talking to him about surgical hair restoration inspired me to overhaul the content of our web sites and raise the standards for membership in the Coalition of Independent Hair Restoration Physicians to require that members successfully perform this cutting edge ultra refined procedure.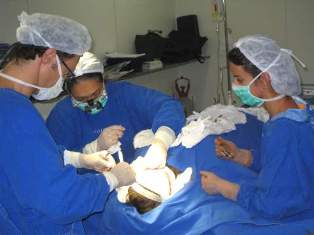 When in the operating room Dr. Tykocinski was very hands on through out the procedure from A to Z – carefully making all the incisions, supervising the microscopic graft trimming and placing many of the grafts. His procedure is second to none in my opinion.
In the operating room Dr. Tykocinski is both highly skilled and artistic. I had the opportunity to meet a few of his friends who were also patients and their hairlines in particular were incredibly natural and subtle. Arthur has a sense of style and artistry that permeates not only his surgery but his life. The beach house he designed and built has a simple elegance and style as does sense of fashion. He is also a very fun and genuine person. He also speaks English.
I recommend that anyone who wants to combine a world class surgery with a world class destination consider making the trip to Sao Paulo Brazil for Dr. Tykocinski. I'm confident that the trip will be rewarding and well worth the travel.

View more photos of this visit.
See more highlights of visits to leading hair restoration clinics.
Pat Hennessey,
Technorati Tags: hair restoration, hair transplant, hairline