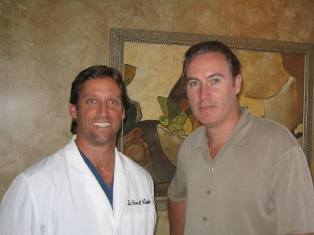 I've had the pleasure of knowing Dr. Glenn Charles for several years both in Minneapolis, where he worked and trained with Dr. Ron Shapiro for years, and in Boca Raton Florida where he now runs a top notch hair restoration clinic.
Dr. Charles learned early in his medical career how to do follicular unit hair transplantation from one of the true masters – my surgeon Dr. Ron Shapiro in Minneapolis. Dr. Charles worked closely with Dr. Shapiro for years while follicular unit transplantation was coming of age.
Dr. Charles has been on the cutting edge of hair transplant surgery techniques for several years and now exclusively performs ultra refined follicular unit hair transplantation with outstanding results. I have seen him perform surgery on many occasions over the years and his skill and artistry are truly exceptional. He now performs all his surgery in his state of the art clinic in Boca Raton, Florida. More recently Dr. Charles has adopted the very tiny custom cut blades which enable him to make tiny dense packed incisions. His highly experienced staff then produces thousands of extremely refined grafts that are trimmed under microscopes to fit in these tiny incisions.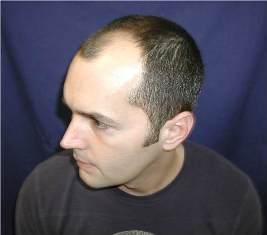 This ultra refined technique enables Dr. Charles and his staff to dense pack large numbers of grafts in a given area when appropriate for a particular patient. This enables patients to achieve good cosmetic density in one surgical session, while the small incisions minimize the trauma and disruption to the scalp and enable rapid healing and regrowth. Dr. Charles carefully orientates all the graft incisions in a manner to assure that the transplanted hair will grow out in at the proper angles and directions to maximize naturalness. He is also an enthusiastic believer in creating graft incisions that are perpendicular in orientation to the scalp (also referred to as "coronal" or "lateral slit" grafting). He and many other leading surgeons believe that graft incisions that are perpendicular in orientation enable them to achieve a more natural hair direction and angle, especially in the temple and frontal hairline areas.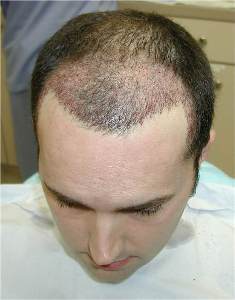 The patient who I saw on my latest visit to Dr. Charles' office had all his grafts in the hairline and temple areas placed in a perpendicular orientation. Dr. Charles believes that using this angulation in the incisions, combined with ultra tiny incisions and grafts, enables him to restore hairlines into the temples regions. He feels that using these relatively new and refined techniques in the temples and sides has dramatically improved the naturalness of his hairlines by enabling him to tie the hairline on the top of the head into the temples and sides.
I agree with Dr. Charles on the importance of restoring the temples and side areas rather than just restoring the hairline on top. I have always believed that hair transplants that simply restore hair on the top of the head, while leaving the temples and sides sharply recessed, do not look entirely natural. Without creating a soft transition through the temple areas and into the sides the new hair on top often looks marooned from the sides of the head due to unnaturally sharp recession in the temples. Dr. Charles does an excellent job of blending the top into the temple and side regions by using carefully orientated and very refined grafts in the temples and sides.
Given Dr. Charles extensive experience with follicular unit hair transplantation and his successful adoption of the very newest ultra refined techniques, I consider Dr. Charles to be one of the few masters of ultra refined follicular unit grafting.
View more photos from this visit to Dr. Charles' clinic.
View more visits to leading hair restoration clinics.
See the Coalition Surgical Workshop hosted by Dr. Charles.
Pat Hennessey,
Technorati Tags: hair restoration, follicular unit transplantation, lateral slit, hairline, hair transplant, hair transplantation, ultra refined follicular unit grafting