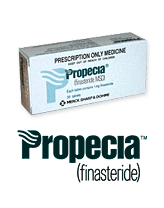 In 1992, Merck Pharmaceuticals obtained FDA (U.S. Food and Drug Administration) approval for a new drug, which utilized finasteride to treat Benign Prostate Hyperplasia (enlarged prostate) in older male patients. However, during the course of the prostate study, the Merck researchers noticed something unusual: along with decreased prostate size, male study subjects also reported an increase in new scalp hair growth while taking finasteride.
After evaluating these claims, Merck launched a new study to test both the safety and efficacy of treating male pattern baldness with finasteride. The study concluded that finasteride halted and, in numerous cases, reversed progressive hair loss, and, in 1997, Merck launched Propecia – a 1 mg finasteride tablet for treating androgenic alopecia in men.
The drug demonstrated significant results, but many began to question the potential sexual side effects associated with prolonged use of the medication. During the initial FDA trials, researchers concluded that finasteride could cause sexual side effects, such as diminished libido and erectile dysfunction (ED), but these reactions were only seen in 2% of subjects and subsided after stopping the medication. However, many hair loss sufferers weren't convinced and asked for new studies to test both the efficacy of the medication and the impact of the potential sexual side effects.
Recently, a research team in Japan answered these requests with one of the largest and most conclusive finasteride studies since the initial FDA trials.
In the study, 3,177 Japanese men with androgenic alopecia (male pattern baldness) were given 1mg of Propecia from January 2006 through June of 2009. Of the 2,561 patients who completed the entire study, 2,230 (87.1%) demonstrated new hair growth, with 11.1% showing "great growth increase," 36.5% "moderate increase," and 39.5% "slight increase." Adverse sexual side effects (including reduced libido and erectile dysfunction) were observed in only 0.7% of patients, even less than the 2% quoted in the original Propecia study. Based on this data, the research team concluded that Propecia is a safe and effective treatment for androgenic alopecia in Japanese males (and also stated that the results are unlikely to vary between males of different ethnic backgrounds). This study helps confirm the safe and effective nature of Propecia (finasteride) for treating male hair loss.
_______________
Blake Bloxham – formerly "Future_HT_Doc"
Editorial Assistant and Forum Co-Moderator for the Hair Transplant Network, the Hair Loss Learning Center, the Hair Loss Q&A Blog, and the Hair Restoration Forum
Follow our community on Twitter
Watch hair transplant videos on YouTube
Get Proven Hair Loss Treatments at the Best Prices by visiting our new Online Hair Loss Product Store
Technorati Tags: finasteride, hair growth, male pattern baldness, hair loss, Propecia, androgenic alopecia, diminished libido, erectile dysfunction, hair loss sufferers, male hair loss