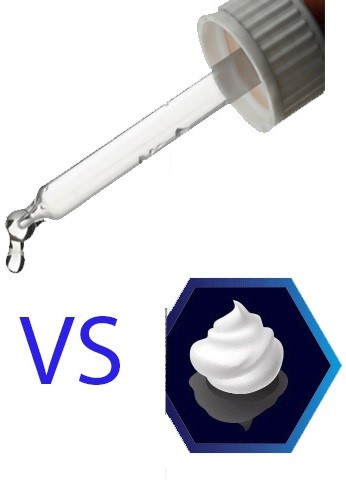 I'm wondering if there is any difference between minoxidil foam and minoxidil liquid?
Technically, there should be no difference between the liquid and foam minoxidil treatments. However, allow us to explain how Rogaine (minoxidil) works.
Rogaine (minoxidil) was first manufactured as a drug to treat blood pressure in the 1980's however, it was later discovered that hair growth was one of the drugs side effects. As a result, Rogaine (minoxidil) clinical studies were submitted to the FDA for approval. The clinical studies results were impressive enough for the FDA to approve Rogaine (minoxidil) as a treatment solution for androgenic alopecia (genetic hair loss). Additionally, Rogaine (minoxidil) is the only FDA approved hair loss solution that also works with female patterned hair loss.
To date, the exact mechanism for how minoxidil works is still relatively unknown. Minoxidil is a vasodilator, which essentially means it widens blood vessels. Many have speculated that by improving the blood circulation on the scalp, hair follicles are able to receive more oxygen and nutrients. Additionally, it is believed that minoxidil prolongs the anagen (growth) phase of the hair follicles life cycle. Thus, significantly delaying the male pattern baldness process.
The main difference between Rogaine foam and the liquid version is the application. However, there is one ingredient that is not found in the foam versions of minoxidil. This ingredient is called propylene glycol (PG). PG is a chemical compound that is used as a solvent and vehicle for the absorption of minoxidil. Unfortunately, many users experience side effects from PG which include: itching, scaling, flaking and rashes.
That said, many users online have reported anecdotal evidence that the liquid version of minoxidil is more effective. Many believe that the liquid version of minoxidil absorbs better in to the scalp, as opposed to the foam version that may be absorb through the hair follicles instead of the scalp. However, it should be noted that both versions have been approved by the FDA, so ultimately it is a matter of preference.
Written and published by,
Melvin- Editorial Assistant and Forum Co-Moderator for the Hair Transplant Network and The Coalition of Independent Hair Restoration Physicians