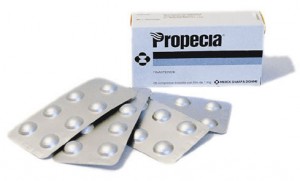 Most hair restoration physicians advocate the use of Propecia (finasteride) and Rogaine (minoxidil) post hair transplant. In fact, some hair transplant doctors insist upon it. Currently, these two drugs are the only clinically proven and FDA approved medical treatments for hair loss. But what about those balding patients who have experienced or fear the negative side effects associated with using these drugs? Should a patient proceed with surgical hair restoration without medically stabilizing their hair loss?
Side effects associated with finasteride are considered rare.   These include erectile dysfunction, loss of libido and gynecomastia (male breast development) among others. Possible side effects of topical minoxidil are much milder with some men reporting scalp irritation, itchiness and dryness. While the prospect of experiencing sexual side effects can be quite frightening, less than 2% of men experience some sexual side effects and only 1.3% experience erectile dysfunction. These side effects are generally considered reversible upon discontinuation of the medication.
Even with statistics on their side, some men refuse to add these drugs to their hair loss regimen but continue to pursue surgical hair restoration. What does the future hold for them?
Forum member "Churchies49" started the thread "Has Anyone on this Forum had a Hair Transplant without Medication?", asking members to provide input and voice their concerns. Follow the link to contribute your opinions to the discussion.
—-
David – aka TakingThePlunge
Assistant Publisher and Forum Co-Moderator for the Hair Transplant Network, the Hair Loss Learning Center, the Hair Loss Q&A Blog, and the Hair Restoration Forum
Follow our community on Twitter
Watch hair transplant videos on YouTube
Technorati Tags: hair restoration physicians, Propecia, Rogaine, hair transplant, hair loss, balding, hair restoration, finasteride, minoxidil