Although Kim Kardashian is well known known for her appearances in the media, fashion retail stores, and numerous television shows, she recently showed the world something never seen before: possible signs of hair loss.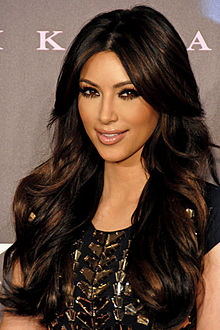 While arriving at the Charles De Gaulle airport earlier this week, Kim Kardashian was photographed with what appeared to be an alleged "bald spot" or thinning patch of hair on the right side of her scalp. Most media sources, while surprised that the normally pristine reality star would arrive in such a public place with a visible bald spot, are speculating that the thinning patch is a spot of traction alopecia, caused by years of follicular damage from hair "extensions."
While the topic of "balding celebrities" may be relevant and interesting to a large number of celebrity gossip fans, the Kim Kardashian hair loss story shines light on a more important, and often overlooked, issue: female hair loss and the large quantity of women affected by this condition each year.
Women with hair loss should be aware of the variety of issues specific to their sex and the number of hair loss treatments specifically targeted at treating female thinning hair.  Learn more about what causes female hair loss.
Female baldness should not be a point of embarrassment or controversy.  Furthermore, many cases of non-genetic female balding can be controlled and reversed by treating the condition responsible for it.  This may or may not include non-surgical and surgical hair restoration.
While we don't want to add to the Kim Kardashian rumor mill , we do appreciate the attention it is bringing to the important topic of female hair loss. We encourage all female hair loss sufferers to consult a dermatologist or a hair restoration specialist in order to determine the cause of the problem and find a suitable treatment.
To view Kim Kardashian's alleged bald spot, see the below images:
________________________
Blake Bloxham – formerly "Future_HT_Doc"
Editorial Assistant and Forum Co-Moderator for the Hair Transplant Network, the Coalition Hair Loss Learning Center, and the Hair Loss Q & A Blog. To share ideas with other hair loss sufferers visit the hair loss forum and social community
Watch hair transplant videos on YouTube
Get Proven Treatments at the Best Prices by visiting our new online hair loss treatment shop.
Follow us on: Facebook | Twitter | YouTube
Technorati Tags: Kim Kardashian, hair loss, bald spot, traction alopecia, balding celebrities, Kim Kardashian hair loss, female hair loss, Women with hair loss, thinning hair