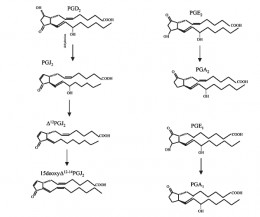 Are you one of the millions of balding men and women worldwide waiting for a new and revolutionary treatment for genetic hair loss? If so, your wait may soon be over.
The Internet has been abuzz lately over a discovery by University of Pennsylvania researchers, illuminating the role of a compound called Prostaglandin D2 (PGD2) in androgenic alopecia. These scientists have noted a direct correlation between higher concentrations of this compound and thinning hair, suggesting that inhibiting PGD2 or otherwise blocking its effects may stop hair loss and potentially regrow hair.
While there is certainly nothing wrong with speculating about future hair loss treatments, balding men and women are advised to research and consider clinically proven and FDA approved treatments available today. For men these are Propecia (finasteride) and Rogaine (minoxidil). Only Rogaine is safe and approved for female hair loss. Women should not ingest or even handle Propecia tablets.
—-
David (TakingThePlunge)
Editorial Assistant and Forum Co-Moderator for the Hair Transplant Network, the Coalition Hair Loss Learning Center, and the Hair Loss Q & A Blog.
To share ideas with other hair loss sufferers visit the hair loss forum and social community
Get Proven Treatments at the Best Prices by visiting our new online hair loss treatment shop.
Watch hair transplant videos on YouTube
Follow us on: Facebook | Twitter | YouTube
Technorati Tags: balding, hair loss, Prostaglandin D2, PGD2, androgenic alopecia, thinning hair, regrow hair, female hair loss