I have taken really crappy care of my body ever since I left high school three years ago. Since that time I have had progressive thinning all over my head, especially at the hairline. While still in high school, I never had hair loss. I rarely smoked and I played sports all the time. Following high school, I have smoked pack a day, not really had any consistent exercise, and drank at least 2 nights a week. My dad is a Norwood 5-6. He had lost almost all his hair by the time he GOT TO college.

Realistically, if I stopped smoking, started running, and slowed down the booze, would my hairloss would slow down? I know it would help my cardiovascular health, which promotes blood flow, which is good for hair, right? I don't expect to stop my hairloss completely, just slow it down. I'm 21 years old.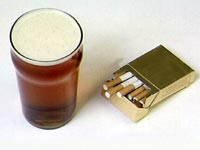 If it were only that easy…
Your hair loss is predetermined by genetics. You said yourself that your father had severe hair loss at an early age. That's the best indicator that you can get of what you can look forward to.
Of course, quitting smoking will help. Smoking cigarettes constricts blood vessels that nourish the hair. However, smoking is not the cause of your hair loss; it only exacerbates an already existing condition . It did not cause it.
Bottom line: Live a healthy lifestyle AND use proven hair loss treatments. The absolute best regimen available that won't break the bank is 1 mg Propecia (or Proscar) per day, 1 mL Rogaine applied to the crown twice per day, and Nizoral 2% shampoo applied three times per week for 5 minutes. Follow this regimen religiously for one year and you will most likely see results. Be sure to talk to a physican to get a prescription for the Propecia.
For more information, read: 5 Ways To Regrow Your Hair: The Real How-To Guide for the Hair Loss Sufferer
Also read Myths Surrounding Hair Loss
-Robert
Technorati Tags: hair loss, hairloss, Proscar, Nizoral, Propecia