I've been using Kirkland brand 5% minoxidil once a day for about 7 years and it's worked well. Now, Costco has discontinued the liquid and is only selling the foam, which I've heard doesn't work as well. So for a few months now I've been using Walgreen's minoxidil.

My hair has become very dry, and some of it has broken off. I don't know if it's the Walgreen's brand or what. Your advice would be very helpful. Thank you.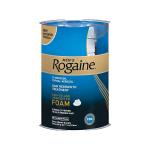 Comparing the ingredients for both minoxidil products, they appear to be exactly the same (as you can see below). I can't think of any reason why one would dry out hair out more than the other. Is it possible that this is due to other factors and it just happened to coincide with the change in product?
Kirkland Minoxidil
Active Ingredients: minoxidil 5% w/v.
Inactive ingredients: alcohol, 30% v/v, propylene glycol, 50% v/v, purified water.
Walgreen's Minoxidil
Active Ingredients: minoxidil (5% w/v)
Inactive Ingredients: alcohol, propylene glycol, purified water
Some hair loss experts have speculated that Rogaine Foam and its generic counterparts are less effective than the liquid form because the foam does not contain propylene glycol. This ingredient is used in many topicals to aid in absorption. The downside to PPG is that it tends to cause itching and irritation. It is also the source of the greasy residue associated with liquid minoxidil and some users may develop and allergy to it.
According to clinical studies presented by the manufacturer, Rogaine Foam is just as effective for hair growth as liquid Rogaine and was shown to regrow hair in 9 out of 10 men when used twice daily for 4 months. However, if you wish to continue using Kirkland liquid minoxidil, it is still currently still available online at our hair loss treatments shop.
—-
David (TakingThePlunge)
Editorial Assistant and Forum Co-Moderator for the Hair Transplant Network, the Coalition Hair Loss Learning Center, and the Hair Loss Q & A Blog.
To share ideas with other hair loss sufferers visit the hair loss forum and social community
Technorati Tags: minoxidil, Kirkland Minoxidil, hair loss, Rogaine Foam, hair growth, Rogaine, regrow hair, hair loss treatments