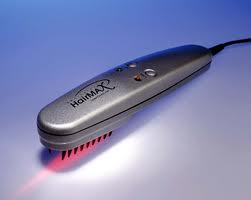 Laser therapy for hair loss remains a hot topic amongst hair restoration professionals and patients alike. While some see it as an effective method of treating androgenic alopecia and other forms of hair loss, others condemn it as quackery. This discrepancy may be due in part to the ambiguous marketing of products like the HairMax LaserComb.
While the HairMax laser comb device was found by the FDA to be safe based on its "substantial equivalence" to previously approved laser light therapy devices and thus "cleared" (not "approved"), it was unclear to what extent the FDA reviewed or cleared it based on its effectiveness in treating balding. However, it appears that this device and similar devices are often touted as being "FDA approved" to treat thinning hair.
With very little verifiable data and mostly anecdotal information to support or refute its efficacy, this debate is likely to continue for awhile.
To read more about the experiences of our members and add your own thoughts and comments, join the discussion thread, Laser Hair Restoration, Fact or Fiction? started by Hair Restoration Forum member "jzachary".
—-
David – aka TakingThePlunge
Assistant Publisher and Forum Co-Moderator for the Hair Transplant Network, the Hair Loss Learning Center, the Hair Loss Q&A Blog, and the Hair Restoration Forum
Get Proven Hair Loss Treatments at the Best Prices by visiting our new Online Hair Loss Product Store
Technorati Tags: Laser therapy, hair loss, hair restoration, androgenic alopecia, HairMax LaserComb, laser light therapy, balding, thinning hair