Can women use Rogaine hair loss treatment for men or can they only use the women's formula?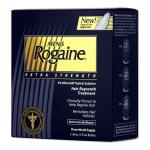 Yes, while Rogaine (minoxidil) is available in a 2% women's formula, some hair loss experts recommend the 5% men's formula for their female patients. While it is perfectly safe and typically more effective, the higher concentration comes with a greater risk of side effects like scalp itching and irritation as well as facial hair growth.
If you should experience any side effects on Rogaine, simply discontinue use and the side effects will subside.
—-
Technorati Tags: Rogaine, hair loss treatment, minoxidil, hair loss, hair growth