This question comes from a member of our hair loss social community and discussion forums:
I'm researching surgery and noticing that most clinics use hair transplant technicians for the placement of the follicular unit grafts. Is this standard practice? Is it okay for technicians to place grafts during hair transplant surgery?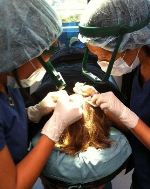 In my opinion, hair transplant technicians are highly proficient at their jobs. In fact, all top-notch clinics understand that hair transplant surgery is a team effort, and the doctors managing these clinics train, review, and retain the best technicians. While many doctors certainly assist in the placement process, I really think the majority of this work will always fall on the technicians. Which, again, I believe falls under their job description and they are more than capable of handling.
In fact, quality clinics employee technicians who have placed thousands upon thousands of grafts and are likely the most qualified to do so. This is akin to the manner in which a trained doctor is the most qualified to remove the grafts and make the incision sites. Altogether, technicians placing grafts at trusted, reviewed clinics is, in my opinion, standard practice. Keep in mind that this doesn't take placement with an implanter pen (like the Choi and Lion implanter pen) into consideration (which still involves technicians priming the pen for the doctor).
_______________
Blake Bloxham – formerly "Future_HT_Doc"
Editorial Assistant and Forum Co-Moderator for the Hair Transplant Network, the Hair Loss Learning
Center, the Hair Loss Q&A Blog, and the Hair Restoration Forum
Follow our community on Twitter
Watch hair transplant videos on YouTube
Technorati Tags: hair loss, hair transplant, hair transplant surgery