I would like to know how a totally bald man can achieve a full set of hair when he has no donor hair to contribute. Is this possible?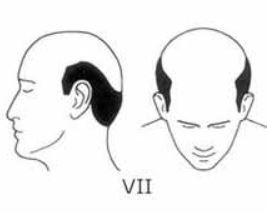 Successful hair transplant surgery depends on a number of factors. Of course, the most important of these is an adequate supply of donor hair. In patients that exhibit Norwood VII hair loss, this donor supply is minimal and often insufficient. Other factors like age, hair caliber and hair and scalp color are also factors that may influence the outcome. Thus, it is critical that these patients have realistic expectations if they decide to proceed with surgical hair restoration.
It is important to note that, even in cases of moderate hair loss, hair transplant surgery normally provides only an illusion of density. Someone with advanced baldness will not be able to obtain the appearance of a full head of hair. For examples of hair transplants on severely bald patients, click the following link, Hair Transplant Pictures and Photos: By Norwood Class 7.
—-
David (TakingThePlunge)
Editorial Assistant and Forum Co-Moderator for the Hair Transplant Network, the Coalition Hair Loss Learning Center, and the Hair Loss Q & A Blog.
To share ideas with other hair loss sufferers visit the hair loss forum and social community.
Technorati Tags: bald, hair transplant, Norwood, hair loss, hair restoration, baldness, hair transplants