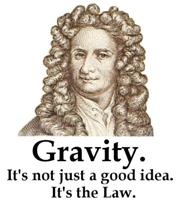 Although androgenic alopecia (male pattern baldness) is a complicated condition, scientists have understood the mechanism behind this type of hair loss for a number of years: In androgenic alopecia, genetically susceptible hair follicles  are exposed to high levels of dihydrotestosterone (DHT) hormone, which causes abnormal cycling and eventually permanent loss of function in these follicles. This process causes a gradual hair thinning and eventually leads to permanent patterned baldness. For years, the inciting factor or underlying cause of androgenic alopecia was cited as simply genetics; however, Turkish plastic surgeon Dr. Emin Tuncay Ustuner recently proposed a new theory to explain the underlying cause of male pattern baldness: gravity.
Yes, gravity! As strange as it sounds, Dr. Ustuner believes the effect of gravity explains not only male pattern baldness, but also why body hair and scalp hair react differently to DHT and why females experience more hair loss after menopause. According to Dr. Ustuner, the force of gravity on the scalp puts excessive pressure on hair follicles and eventually causes hair loss. In younger individuals, the layer of fat under the superficial scalp is thick and "well hydrated," and this creates a cushion that prevents the hair follicles from being suffocated as gravity forces the scalp down toward the skull. However, as individuals age, the amount of fat decreases and gravity begins to cause follicle damage and hair loss. The hair follicles in the back and sides of the scalp – those normally spared in androgenic alopecia – aren't affected by gravity because they don't lay under the top of the scalp and do not experience the increased pressure from gravity. What's more, because the female sex hormone estrogen promotes fat building, Ustuner believes the association between female hair loss and menopause (cessation of normal estrogen cycling) can be explained by a decrease in scalp fat with decreasing levels of estrogen.
Dr. Ustuner believes his "hair loss gravity theory" explains another alopecia phenomenon: why body hair follicles and scalp hair follicles respond differently to DHT. Unlike scalp hair follicles, which shrivel and eventually stop cycling when exposed to DHT, body hair follicles experience increased growth and development when exposed to the hormone. According to Ustuner, all hair follicles (body and scalp) respond to stress by signaling for greater levels of testosterone and its potent DHT derivative. This is because Ustuner believes all hair follicles actually experience growth and development from testosterone and DHT. However, these hormones also cause a breakdown and decrease in the level of body fat. So, when the scalp hormones begin to experience increased pressure from a loss of scalp fat with normal aging, they signal for testosterone and DHT to help grow and function properly. However, the increased levels of testosterone and DHT in the scalp end up causing a greater thinning of the scalp fat and, subsequently, more crushing gravitational pressure on the hair follicles. This phenomenon is not seen in body hair follicles where direct gravitational force is not an issue, and helps explain why scalp and body follicles seem to react differently to testosterone and DHT.
Dr. Ustuner is the first to admit that many will be skeptical of his latest theory. Obviously, the theory conflicts with years of hair loss research and does not explain the phenomenon of donor dominance or why scalp hair follicles survive after being transplanted to areas of balding scalp. However, it is an interesting theory and may be researched more seriously in the future.
_____________
Blake Bloxham – formerly "Future_HT_Doc"
Editorial Assistant and Forum Co-Moderator for the Hair Transplant Network, the Hair Loss Learning
Center, the Hair Loss Q&A Blog, and the Hair Restoration Forum
Follow our community on Twitter
Watch hair transplant videos on YouTube
Technorati Tags: androgenic alopecia, male pattern baldness, hair loss, dihydrotestosterone, DHT, Emin Tuncay Ustuner, hair loss gravity theory