I'm interested in the hair transplant surgery without a rear scar. Please tell me what the next step is. Is it possible to do the procedure with long hair? Please note that I am not completely bald and I use Toppik hair loss concealer.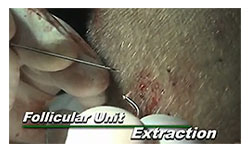 It's important to note that there is simply no such thing as completely scar-less surgery. However, it seems that you are referring to Follicular unit extraction (FUE) hair transplantation.  This procedure avoids the strip scar associated with Follicular unit transplantation (FUT) via strip excision and can, under the right conditions, result very minimal scarring, allowing the patient to wear a closely cropped hairstyle without detection.
Unfortunately, FUE will require you to shave your donor area and, in some cases, your entire head. To learn more about these techniques, click the links above and also research on our hair restoration forum.
—-
David (TakingThePlunge)
Editorial Assistant and Forum Co-Moderator for the Hair Transplant Network, the Coalition Hair Loss Learning Center, and the Hair Loss Q & A Blog.
To share ideas with other hair loss sufferers visit the hair loss forum and social community
Get Proven Treatments at the Best Prices by visiting our new online hair loss treatment shop.
Technorati Tags: hair transplant, bald, Toppik, hair loss, Follicular unit extraction, FUE, hair transplantation, Follicular unit transplantation, FUT, hair restoration