Just wondering if there is any point to using Rogaine Foam (5% minoxidil) once a day as my hair transplant surgeon recommends using it for the first year and I really don't want to use it twice a day as I already feel bad enough about using finasteride.

My scalp is very sensitive and wondering if there is any benefit to using it just once a day or do I have to use it twice a day to see the new follicles kick-started which is why he recommends it?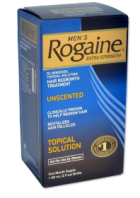 Some hair restoration experts feel that using minoxidil foam once daily is nearly as effective as using liquid minoxidil twice daily. However, the truth is that no one can say for certain what your personal experience might be.
Bear in mind that the side effects of topical minoxidil are rare and fairly mild. In addition, the foam doesn't tend to irritate the scalp like liquid does because it does not contain propylene glycol.
—-
David (TakingThePlunge)
Editorial Assistant and Forum Co-Moderator for the Hair Transplant Network, the Coalition Hair Loss Learning Center, and the Hair Loss Q & A Blog.
To share ideas with other hair loss sufferers visit the hair loss forum and social community.
Technorati Tags: Rogaine Foam, minoxidil, hair transplant, finasteride, hair restoration, minoxidil foam