I want some genuine advice. I have been using Rogaine (5% minoxidil) for one year. The first 7 months I applied it twice a day but when I saw results, I quit using it twice a day and for the last 3 months I have applied it only once in the morning.

Right now it's shocking for me because I've started seeing hair loss again and my doctor suggested that I use minoxidil 10%. Is 10% going to give me my hair back and is it more effective than 5%? He also suggested that I take Propecia (finasteride) but I'm worried about side effects.

Is minoxidil 10% going to help me regrow hair? Thanks in advance!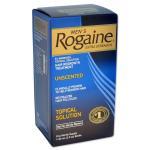 The clinically proven and FDA approved dose of minoxidil for hair loss in men is 5% twice daily. Some hair loss sufferers have used greater concentrations of minoxidil but there is very little data available to prove that increasing this percentage beyond 5% is more effective for hair growth.
I recommend returning to twice daily application of 5% minoxidil. You may not get all of your hair back but it will probably retain the hair you have and increase density.
Additionally, finasteride when combined with minoxidil is arguably the best medical hair loss treatment currently available. There is a lot of fear and misinformation online about the side effects of finasteride but, according to clinical studies, less than 2% of men will experience severe sexual side effects.
These side effects should subside upon discontinuation of the drug but any gains in hair growth will also be lost if you quit Propecia.
—-
David (TakingThePlunge)
Editorial Assistant and Forum Co-Moderator for the Hair Transplant Network, the Coalition Hair Loss Learning Center, and the Hair Loss Q & A Blog.
To share ideas with other hair loss sufferers visit the hair loss forum and social community
Technorati Tags: Rogaine, minoxidil, hair loss, Propecia, finasteride, regrow hair, hair growth, hair loss treatment