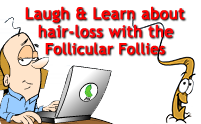 While finasteride may be the most effective medicine in treating male pattern baldness, laughter is truly the best medicine for the spirit.   We all know how anguishing and depressing hair loss can be.   Thus, by creating "The Follicular Follies of Balding Bob and Fleckie the Follicle", we hope to relieve some of this stress with laughter.
Bob and Fleckie together comprise a balding anti-hero for a new generation. Not since Seinfeld's George Castanza has the follicularly challenged population been offered such a sympathetic character. Come watch Balding Bob, a hapless newbie still vulnerable to the hype (like many of us were when we first started our research) make all the classic blunders as he tries to restore his hair and lost confidence.   Fleckie the Follicle, the one remaining hair follicle at Bob's hairline is Bob's voice of reason and tries to warn him.   Unfortunately, Bob learns the hard way ignoring Fleckie's pleas, putting Fleckie through some pretty awkward and uncomfortable experiences. Come watch these hilarious and lovable characters as they will navigate through the world of infomercials, toupees, snake oils, hype and white coated sales people along the road to hair restoration.
We encourage to you to follow Balding Bob's exploits and learn from Fleckie's wisdom. To see our first episode visit the Follicular Follies.
Also feel free to contribute your wit and wisdom to future episodes on our forum at "The Follicular Follies Forum".
Disclaimer: Any resemblance to balding persons or talking hair follicles living or dead is purely coincidental.
—-
David – aka TakingThePlunge
Assistant Publisher and Forum Co-Moderator for the Hair Transplant Network, the Hair Loss Learning Center, the Hair Loss Q&A Blog, and the Hair Restoration Forum
Get Proven Hair Loss Treatments at the Best Prices by visiting our new Online Hair Loss Product Store
Technorati Tags: finasteride, male pattern baldness, hair loss, balding, hair restoration, Hair Transplant