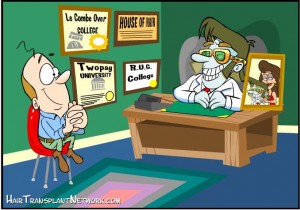 Famed poet E. E. Cummings once said, "The most wasted of all days is one without laughter." With that in mind, the Hair Restoration Forum and Social Network recently launched another episode of the "The Follicular Follies of Balding Bob and Fleckie the Follicle". Dare to see the funny side of hair loss!
In Episode 2: Bio-Fusion Confusion, Bob's desire for luxurious locks leads the hapless hair loss newbie and his voice of reason Fleckie into the clutches of the Bio-Fusion Institute for a hair replacement system. Come watch Balding Bob as he continues to make classic blunders while trying to restore his hair and lost confidence. We encourage you to follow Balding Bob's exploits and learn from Fleckie's wisdom.
Be sure to follow the Follicular Follies on Facebook and watch the enhanced YouTube version complete with a musical soundtrack. You are also encouraged to contribute your wit and wisdom to future episodes on "The Follicular Follies Forum".
—-
David – aka TakingThePlunge
Assistant Publisher and Forum Co-Moderator for the Hair Transplant Network, the Hair Loss Learning Center, the Hair Loss Q&A Blog, and the Hair Restoration Forum
Get Proven Hair Loss Treatments at the Best Prices by visiting our new Online Hair Loss Product Store
Technorati Tags: Hair Restoration, Balding, hair loss, hair replacement