This question, asked by a member of our hair loss social community and discussion forums, was answered by clinic representatives "Janna" (from Coalition hair transplant clinic Shapiro Medical) and "Jotronic" (from Coalition clinic Hasson & Wong): 
I recently underwent a follicular unit transplantation (FUT) procedure, and I'm going to have the staples from the strip excision removed from the back of my scalp. However, I'm worried that the holes created by the staples will become infected. Is this common? Do I need to worry about infections from hair transplant surgery staple removal?
Janna from Shapiro Medical Group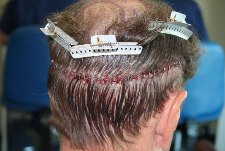 We (Shapiro Medical) apply an antibiotic ointment for couple of days after the procedure, but I'm not entirely sure if its necessary. I know some clinics don't apply anything and their patients don't seem to have an increased rate of infection. Altogether, it seems like infection rates (associated with staple removal) are quite low. 
Jotronic from Hasson and Wong
Like Janna said, it's not something that all clinics that use staples require. We (Hasson & Wong) don't but if you want you can go to your local drugstore and get a tube of Polysporin (antibiotic) or something similar and just dab it on the donor incision line – just enough to cover above and below for the staples points, and only for a few days. You'll be fine either way though.
___________
Blake  – aka Future_HT_Doc
Editorial Assistant and Forum Co-Moderator for the Hair Transplant Network, the Hair Loss Learning Center, the Hair Loss Q&A Blog, and the Hair Restoration Forum
Follow our community on Twitter
Watch hair transplant videos on YouTube
Technorati Tags: hair loss, hair transplant, follicular unit transplantation, FUT, hair transplant surgery