This question, from a member of our hair loss social community and discussion forums, was answered by a staff physician from Coalition hair transplant clinic Feller Medical:
I am bald on top probably a 5 or 6 on the Norwood Scale for hair loss and I had a hair transplant on the front half of my head. The hairs are spaced apart and it's only been 10 days but the scabs are gone and I can see the hair, is it because it is so short that it looks that way? I know the density is going to only be like 20% of what I had as a kid but maybe the hair has to be longer to look that way?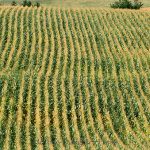 I wouldn't be worried based solely on the 10 day post-operative appearance alone. A few reasons why:
1) Although you generally shed the hairs arising from the transplanted follicles between 2 weeks and 2 months post-op, you can actually start losing them around the 10 day mark. Especially if they have been coming off with the scabs as you started washing normally again. I've had patients come in with significant sheds for staple removal at only the 10-14 day period. They've grown just fine!
2) You've probably started to get some of those post-operative "cracks" or "fissures" between the grafts as the skin contracts during the initial healing phase. This can make the density look significantly less; it can even make it look like there were entire regions left untreated. This isn't the case, and, again, I've seen nervous patients with this countless times and they've grown just fine.
I think your immediate post-operative images, or maybe ones taken the next day or so, would be a better indicator of your actual transplanted density.
Hope this was helpful!
~Feller Medical
—-
David
Editorial Assistant and Forum Co-Moderator for the Hair Transplant Network, the Coalition Hair Loss Learning Center, and the Hair Loss Q & A Blog.
Technorati Tags: bald, Norwood Scale, hair loss, hair transplant