How Today's Hair Transplants Can Produce Natural, Dense Looking Results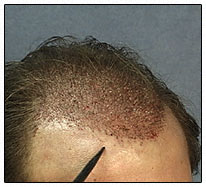 Due to the advancements in surgical hair restoration, today's hair transplants can produce thick natural looking results that mimic nature.   However, due to a limited donor supply, significantly bald men and women may not be able to achieve both full coverage and high degrees of density.   Covering a large balding area will result in fewer grafts available for transplantation per square centimeter and thus, may result in a slightly thinner appearance.   Other attributes such as hair texture and scalp quality also play a role in the patient's final result. To get an idea of the kinds of results today's hair transplant procedures can produce for men and women with varying degrees of thinning hair and baldness, visit our extensive hair transplant photo gallery.
A skilled hair transplant surgeon's artful placement of the follicular unit grafts can enhance the look of transplanted hair leading to a thicker appearance. This is what's referred to as an "illusion of density". It takes a skilled and experienced hair transplant surgeon like those recommended on the Hair Transplant Network to design a hair restoration plan that takes into account all of these variables while still meeting their patient's expectations.
So, what are realistic expectations? Is it reasonable to expect your hair transplant to appear full and natural under all lighting and weather conditions? Can your hair transplant give you back the kind of "wash and go" hairdo you had when you were younger or will you continue to rely on hair loss concealers like Toppik and DermMatch to provide the icing on the cake?
To read more about this topic and contribute your thoughts and experience, join the discussion thread, Do hair transplants usually result in a see-through appearance? started by Hair Restoration Forum member "NorwoodScale".
—-
David – aka TakingThePlunge
Assistant Publisher and Forum Co-Moderator for the Hair Transplant Network, the Hair Loss Learning Center, the Hair Loss Q&A Blog, and the Hair Restoration Forum
Get Proven Hair Loss Treatments at the Best Prices by visiting our new Online Hair Loss Product Store
Technorati Tags: hair restoration, hair transplants, bald, balding, hair transplant, thinning, baldness, follicular unit grafts, hair loss, concealers, Toppik, DermMatch