This question comes from a concerned member of our Hair Restoration Social Community and Discussion Forums:
I'm a female hair loss sufferer looking for effective options to fight my thinning hair. It seems like many of today's hair restoration treatments are aimed towards males, and I want to make sure I'm using safe and effective therapies. How can I fight my female hair loss?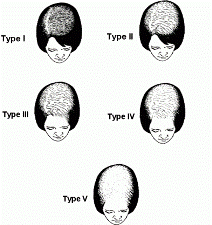 Although a majority of individuals suffering from hair loss are male, it's important to understand that the problem is not restricted to men alone. Not only do females experience hair loss, but female thinning is a unique issue and needs to be treated differently than male hair loss. Fortunately, current hair restoration therapies, namely surgical hair transplantation and preventive medications, can be altered and applied to female patients.
For example, preventive medications, such as minoxidil/Rogaine, are available to female hair loss sufferers. Because most female hair loss is manifested as widespread miniaturization and not patterned baldness, a specialized type of minoxidil is designed especially for women. Additionally, it's important to remember that finasteride/Propecia should not be utilized by women.
Hair transplant surgery is also a restorative option available to female hair loss patients. Like preventive measures, the method of transplantation is slightly altered in women, with follicular unit transplantation (FUT) usually being performed over follicular unit extraction (FUE) and hairlines normally created "lower" and "flatter" around the face.
Females suffering hair loss should not feel embarrassed or alone when it comes to this issue. Talented hair restoration physicians can help female patients create impressive, effective restorative plans, and allow these worthy individuals live without the stress of female balding.
_______________
Blake Bloxham – formerly "Future_HT_Doc"
Editorial Assistant and Forum Co-Moderator for the Hair Transplant Network, the Hair Loss Learning Center, the Hair Loss Q&A Blog, and the Hair Restoration Forum
Follow our community on Twitter
Watch hair transplant videos on YouTube
Get Proven Hair Loss Treatments at the Best Prices by visiting our new Online Hair Loss Product Store
Technorati Tags: Hair Restoration, female hair loss sufferer, thinning hair, hair restoration treatments, female hair loss, hair loss, female thinning, surgical hair transplantation, minoxidil, Rogaine, female hair loss sufferers, miniaturization, patterned baldness, finasteride, Propecia, Hair transplant surgery, female hair loss patients, follicular unit transplantation, FUT, follicular unit extraction, FUE, hair restoration physicians, female balding