The following response to a question from a member of our Hair Loss 
Forum and Social Community
, was written by forum member "hairthere" who is a scalp micropigmentation practitioner:
Do you think tricopigmentation could be improved in some way (aesthetically) or do you think there are certain downfalls? Or do you think it's about as good as it can get?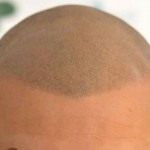 I never dreamed I would be doing scalp micropigmentation (SMP) as a career. I was just a regular forum member and hair loss sufferer like you. One day I was asked to be a model for Milena Lardi (thickening procedure) as she was visiting Dr. Alan Feller. Dr. William Lindsey was also present. I watched Milena perform SMP on a NW6 and observed as both hair transplant surgeons examined her work under magnification. They both agreed the work looked incredible and the dots were nearly indistinguishable from the real follicles. A year later I was on a plane to Milan.
I have many clients tell me people ask them if they are growing their hair out. These guys are slick bald! The key to realistic-looking SMP is the dot size (it needs to be tiny) as well as the hairline design. The equipment and pigments Milena has created really deliver on the dot size, and the design comes down to the artistic vision of the practitioner. I can tell you that Milena is always working to improve her products but from my clientele's feedback I'd say it's about as good as it can get. The other aspect with temporary SMP is that you have a built-in exit strategy which I think is quite important.
I hope that answers your question.
"hairthere"
Owner/Operator of Ahead Ink
—-
David
Editorial Assistant and Forum Co-Moderator for the Hair Transplant Network, the Coalition Hair Loss Learning Center, and the Hair Loss Q & A Blog.
To share ideas with other hair loss sufferers visit the hair loss forum and social community.
Technorati Tags: tricopigmentation, scalp micropigmentation, SMP, hair loss, hair transplant, bald