I am female and my doctor told me to use Rogaine Foam to treat my balding. I am worried about the shedding period in the first 3 weeks. How much hair do you actually lose? I am in a professional program at school so I cannot wear bandanas or hats to cover up my thinning hair.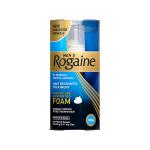 Unfortunately, there is no way to predict how much hair loss due to shedding you will experience upon starting Rogaine (minoxidil). Some people experience little to no shedding at all while others complain that they appear even balder than they did prior to starting the drug. While the shedding typically occurs in the first two to three weeks, it will take three to four months regrow hair shed during that time. For this reason, we recommend that new minoxidil users continue to apply the product as directed for no less than 6 months before assessing their results.
Shedding is typically seen as a good sign. During the shedding phase, your head is releasing the dying miniaturized hairs that will eventually be replaced with thicker, darker follicles.
—-
Technorati Tags: Rogaine Foam, balding, thinning hair, hair loss, Rogaine, minoxidil, regrow hair