This question comes from a member of our hair loss social community and discussion forums: 
I've already undergone several "strip" (Follicular Unit Strip Surgeries – FUSS) procedures, and I'm wondering if there is a limit on the number of these type of surgeries that a patient can have? How many different strip hair transplant procedures can patients undergo?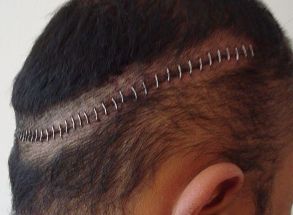 Follicular Unit Hair Transplantation (FUT) can be performed two different ways: via "strip surgery" (FUSS) or via Follicular Unit Extraction (FUE). Often times, patients who have undergone hair transplant surgery seek additional procedures to add density or provide additional coverage. However, the universal donor region – the area in the back of the scalp where follicular units are harvested during a transplant procedure – is finite, and only a certain amount can be removed before visible scarring, thinning, and scalp discomfort may become apparent. This becomes a particular area of concern with multiple strip procedures.
Because of this, patients often wonder how many strip procedures can be performed before they experience inappropriate or visible scarring and scalp tightness. According to hair restoration experts, this really depends on the patient's physiology. If patients possess an excess of donor laxity, thick donor density, and do not exhibit excessive scarring, then multiple strip procedures may be an option. For example, many patients on our Hair Restoration Discussion Forums report undergoing up to 5-10 strip procedures over many years. While this is not the norm, it demonstrates the point that it really depends on the patient. All patients considering multiple strip procedures should consult with a trusted hair transplant surgeon to discuss the feasibility of this hair restoration plan and their options.
____________
Blake Bloxham – formerly "Future_HT_Doc"
Editorial Assistant and Forum Co-Moderator for the Hair Transplant Network, the Hair Loss Learning
Center, the Hair Loss Q&A Blog, and the Hair Restoration Forum
Follow our community on Twitter
Watch hair transplant videos on YouTube
Technorati Tags: hair loss, Follicular Unit Strip Surgeries, FUSS, hair transplant, FUT, strip surgery, Follicular Unit Extraction, FUE, hair transplant surgeon