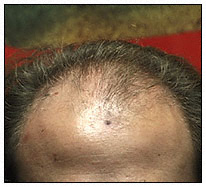 Although hundreds of questions are asked and answered on the Hair Restoration Discussion Forums daily, the most common is likely hair loss patients asking how many follicular unit grafts are necessary to fill their balding scalp. Despite the fact that this question is quite common, it's difficult to answer and unique to nearly every patient.
Various physiological and personalized factors determine the number of grafts required to cover balding scalp. Factors such as the size of the transplanted area, characteristics of the donor hair (circumference of the hair shafts – fine versus coarse and texture of the donor hair –wavy versus straight), desired density in the transplanted region, color difference between the scalp and follicular unit grafts, laxity ("looseness") in the universal donor region, age, and hairline design all affect the number of grafts required for an aesthetically significant result.
However, despite the numerous variables associated with graft counts, there is a way to estimate the required number of follicular unit grafts in any given hair transplant surgery. The hair loss learning center graft calculator is a tool that allows patients to input their personalized information and calculate the number of grafts required for the desired amount of coverage.
The calculator takes variables such as current level of hair loss, the area of the balding scalp, and desired density in the transplanted area into consideration, and creates a helpful estimate of the required graft count. Although the tool is not a replacement for a consultation with an experienced hair restoration physician it's a useful tool that can help many patients answer the infamous question: how many follicular unit grafts will it take to fill my balding area?
_______________
Blake Bloxham – formerly "Future_HT_Doc"
Editorial Assistant and Forum Co-Moderator for the Hair Transplant Network, the Hair Loss Learning Center, the Hair Loss Q&A Blog, and the Hair Restoration Forum
Follow our community on Twitter
Watch hair transplant videos on YouTube
Technorati Tags: Hair Restoration, hair loss, follicular unit grafts, balding, balding scalp, donor hair, universal donor region, hair transplant surgery, hair loss learning center, graft calculator, hair restoration physician