The following thorough response to a question from the Hair Restoration Social Community and Discussion Forums, was written by forum member "Gillenator".
From the safe zone of head, how many grafts would be available total for the average male? How about just multiple sessions of follicular unit extraction (FUE)?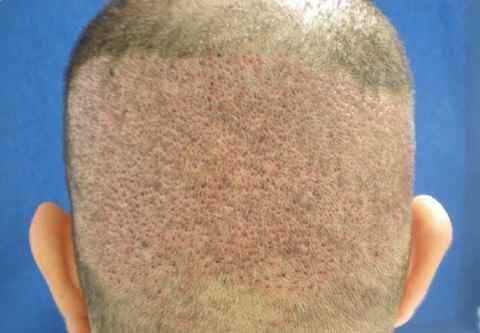 A very general response for the average individual would be 5,000 – 7,000 grafts for follicular unit strip surgery (FUSS) and add another 2,000 if it is FUE.
We have to consider that donor level density, size of the donor regions, and competence of the hair restoration physician all impact these numbers.
For FUE only, this would really depend on the individual's overall scalp density. Why? Because let's say one individual has average density, then the average might be 6,000 -8,000 utilizing all of the scalp donor zones including the sides and parietal zones.
If you go much higher than that, then the donor zones can potentially begin to appear thin and over-harvested especially if the scalp is buzzed down. But if the individual had upper end density levels, then 8,000 plus is not out of the question.
Gillenator
Supporting Hair Restoration Physicians: Dr. Glenn Charles, Boca Raton, FL – Dr. Jerry Cooley, Charlotte, NC – Dr. Jim Harris, Denver, CO – Dr. Robert True & Dr. Robert Dorin, New York, NY
—-
David
Editorial Assistant and Forum Co-Moderator for the Hair Transplant Network, the Coalition Hair Loss Learning Center, and the Hair Loss Q & A Blog.
To share ideas with other hair loss sufferers visit the hair loss forum and social community.
Technorati Tags: follicular unit extraction, FUE, follicular unit strip surgery, FUSS, hair restoration