This question, from a member of our hair loss social community and discussion forums, was answered by Coalition hair transplant surgeons Dr. William Lindsey and Dr. Michael Beehner: 
I recently underwent hair transplant surgery, but I think I'll require a second procedure to achieve my desired density. Because of this, I'm wondering how long I need to wait between procedures? Is there a standard time period? Are there any exceptions to this rule?
Dr. Lindsey: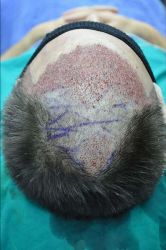 Full healing and stretching of the scalp to allow another excision and limited tension closure takes a while. Especially in follicular unit strip surgery (FUSS) or "strip extraction."12 months is better than 6 and easy to remember, and since some people are slower healers than others, most doctors probably wait 12 months to be on the safe side. I do as well.
Also, I prefer the patient to know that the first one "worked" before paying for a second procedure (which means waiting a full 12 months to see the matured results). They are more relaxed and it just goes more easily than a second "leap of faith".
That said, we perform roughly 1 surgery on a patient at 6 months per year, and it is always someone who was leaving the country for an extended time frame and who wanted to have a second surgery with me rather than wait 4 or 5 years. Interestingly all of those have promised to send pics, but unfortunately only one has. Several send a thank you email or card but it would be nice to have a bit more followup from my selfish perspective.
Bottom line, waiting 12 months is likely the standard of care currently.
Dr. Beehner: 
Like Dr. Lindsay, we also encourage patients to put 12 months between sessions. I also make one or two exceptions with shorter intervals, usually for the same reason – namely, that someone is returning to their native country and won't be able to get back to see me a year from then.
Waiting the year is necessary for two other reasons as well: 1. It allows for the blood supply (vascularity) of the scalp to return to normal to support the new grafts and to be able to respond to the new added injury that all these recipient sites bring about; 2. to make sure almost everything is growing, so that we don't trample on a graft that has already been placed.
There are good studies showing that the diameter of the new hairs increase over the first 15-18 months. I also encourage the men and women we transplant to wait till 18 months to make a decision as to whether or not they think they need another procedure. This applies to those patients who are trying to accomplish their hair replacement in the fewest number of sessions. Twelve months is too early to judge the final results.
_____________
Blake – aka Future_HT_Doc
Editorial Assistant and Forum Co-Moderator for the Hair Transplant Network, the Hair Loss Learning
Center, the Hair Loss Q&A Blog, and the Hair Restoration Forum
Follow our community on Twitter
Watch hair transplant videos on YouTube
Technorati Tags: hair loss, hair transplant, hair transplant surgery, follicular unit strip surgery, FUSS