This question comes from a member of our hair loss social community and discussion forums: 
Several months ago, I underwent Follicular Unit Strip Surgery (FUSS). I'm pleased with the results so far, but worried about the strip scar. How long should I wait before considering revision of my hair transplant strip scar?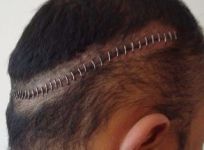 Much like the results of the hair transplant itself, the strip scar takes around 12 months to fully mature and develop. The scar goes through a series of healing phases. During the earlier healing phases, the scar often appears raw and red, and patients assume it won't heal well. This often is not the case, and the scar simply needs more time to heal.
By month 12, it should be as flat and narrow as it is going to be; at this point, patients can assess the scar and determine if it needs revision. While strip surgery normally leaves a fairly thin and manageable scar, healing is variable and some patients may scar regardless of how well the incision is closed.
Those considering scar revision should consult with an experienced hair transplant surgeon to discuss their options.
_____________
Blake Bloxham – formerly "Future_HT_Doc"
Editorial Assistant and Forum Co-Moderator for the Hair Transplant Network, the Hair Loss Learning
Center, the Hair Loss Q&A Blog, and the Hair Restoration Forum
Follow our community on Twitter
Watch hair transplant videos on YouTube
Technorati Tags: hair loss, Follicular Unit Strip Surgery, FUSS, strip scar, hair transplant strip scar, hair transplant