This question comes from a member of our hair loss social community and discussion forums: 
Several months ago, I underwent hair transplant surgery and I'm not certain I will be satisfied with the results. Because of this, I'm wondering how long I need to wait before undergoing another hair transplant procedure? What is the appropriate amount of time patients should wait between hair transplant surgeries?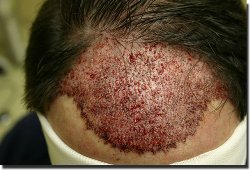 12 months is likely the least amount of time a hair loss sufferer should wait before undergoing a second hair transplant procedure.
This holds true for several reasons:
First, by the 12 month mark, the grafts from the initial hair transplant procedure should be 100% matured, and this allows the surgeon to review areas that require additional density and better understand how the patient will respond to the second procedure.
For example, if the surgeon placed a set number of grafts during the first procedure, but now realizes that the patient's physiology and graft characteristics require additional dense packing, adjustments can be made for the second surgery.
Second, by this point, the universal donor region has had sufficient time to heal and a second procedure will not cause unnecessary scarring or trauma. What's more, by this point, any unexpected "shock loss" in the donor region will subside and allow for a clear view of how the region could respond to a second operation.
Third, because hair loss medications, like minoxidil (Rogaine) and finasteride (Propecia), can take anywhere from 6-12 months to demonstrate full efficacy in patients, if the hair restoration physician started the patient on medication after the first procedure, by 12 months the medication response can be evaluated. If the patient is responding well to the medication at 12 months, it can affect how the surgeon proceeds with the second surgery.
_____________
Blake Bloxham – formerly "Future_HT_Doc"
Editorial Assistant and Forum Co-Moderator for the Hair Transplant Network, the Hair Loss Learning Center, the Hair Loss Q&A Blog, and the Hair Restoration Forum
Follow our community on Twitter
Watch hair transplant videos on YouTube
Technorati Tags: hair loss, hair transplant surgery, hair transplant, hair transplant surgeries, hair loss sufferer, hair loss medications, minoxidil, Rogaine, finasteride, Propecia, hair restoration