This question comes from a member of our hair loss social community and discussion forums: 
I started minoxidil (Rogaine) for my hair loss almost 12 months ago. I was told minoxidil causes an initial shedding phase, but thought it only lasted a few months. 12 months later, however, my hair continues to shed. When will this end? How long does a minoxidil shed usually last?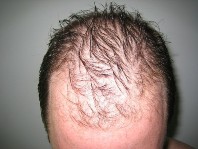 The initial minoxidil shedding phase lasts for 3-4 months. This correlates with the time it takes for the hair follicles to transition into a telogen or "resting" state, and then return to a growth (anagen) state ready to produce thicker, healthier hair. By month 4-5, visible hair should be growing back. After this period, most hair loss experts recommend using the medication for a total of 6 to 12 months (with most recommending 12) before determining if it's working.
A 12 month minoxidil "shed" seems unlikely. It's more likely that you, unfortunately, are not a minoxidil responder and the shedding is a result of progressive androgenic alopecia (male pattern hair loss). You could discuss finasteride (Propecia) with a trusted physician, and consider a trial of this preventive hair loss medication.
_______________
Blake – aka Future_HT_Doc
Editorial Assistant and Forum Co-Moderator for the Hair Transplant Network, the Hair Loss Learning
Center, the Hair Loss Q&A Blog, and the Hair Restoration Forum
Follow our community on Twitter
Watch hair transplant videos on YouTube
Technorati Tags: hair loss, minoxidil, Rogaine, shedding phase, androgenic alopecia, male pattern hair loss, finasteride, Propecia, hair loss medication