This question, which comes from a member of our Hair Loss Social Community and Discussion Forums, was answered by Coalition hair transplant surgeon Dr. William Lindsey:
Is the skepticism regarding the efficacy of follicular unit extraction FUE into hair transplant donor scars simply due to the dearth of examples and case studies we have available to us? These aren't the things that hair restoration physicians typically focus on in their before and after photos.

As I've posted a bunch of times before, I'm very comfortable excising scars and trying to improve them that way first, and using follicular unit extraction (FUE) or even a separate follicular unit transplantation (FUT) to get hair to plant as a refinement of a scar revision.
This fellow (see images below) has already tried that and I think it didn't really work well due to the really low position of the strip. It's way down on the neck and it stretches with even mild neck motion. Plus, from talking with the patient, I'm not sure deep layer sutures were placed during his scar repair but that may not have changed anything given the location of the scar as I mentioned above.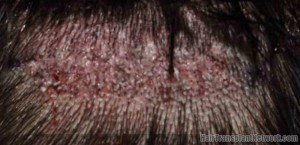 So I think this was really his only viable option and I make it clear that there is no guarantee with planting grafts in a scar but this was a nice soft scar with good vascularity. I think it will work and he'll get 50% improvement if the grafts don't get dislodged before "taking root" over the first week.
Next, some people don't want a second excision. I just FUE'd a bad browlift scar in a young lady. I told her that I would be glad to excise that scar first but she did not want to go through that ordeal so we FUE'd it. I expect her to get a nice result and don't disagree with her choice to avoid another larger surgery given her poor scar and significant mental anguish after her browlift by a local plastic surgeon.
Finally, sometimes scar excision doesn't work. I had a fellow that I excised a horrible scar on early this year. He never showed up for any followup, which is critical if you are trying to improve a scar in someone who's already documented bad scarring. He walked in last week and I'd guess we got 30% improvement but I was honest with him that he may not have had improvement even if he had come in for checkups. I told him that, if he wants anything else, I would only offer follicular unit extraction into the scar because I could not tell if he'd either be compliant with followup or if he'd get improvement even if we re-excised the scar.
So, to summarize, I expect the young man above to get a pretty nice result in about a year. Hopefully he'll keep us all posted with pictures.
Dr. William Lindsey
—-
David (TakingThePlunge) Forum Co-Moderator and Editorial Assistant for the Hair Restoration Forum and Social Network, the Coalition Hair Loss Learning Center, and the Hair Loss Q & A Blog.
Get Proven Hair Loss Treatments at the Best Prices by visiting our new Online Hair Loss Product Store
Technorati Tags: Hair Loss, follicular unit extraction, FUE, hair transplant, hair restoration, follicular unit transplantation, FUT, scar revision