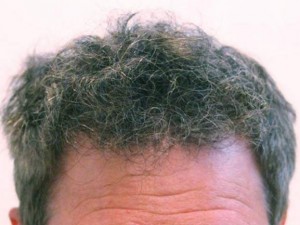 In the hands of a skilled and experienced hair restoration physician, today's ultra-refined follicular unit hair transplants can produce thick, natural looking results. However, many factors can affect the appearance of fullness. Among these factors include scalp and hair characteristics. In fact, the relationship between the hair and scalp are a key element in hair transplant surgery.
While a hair transplant surgeon's artful placement of follicular unit grafts can enhance the look of transplanted hair leading to a thicker and fuller appearance, the following characteristics play an important role in creating a desirable result:
The Number of Grafts: This number depends on the hair transplant patient's available donor hair density and scalp elasticity.   The larger the numbers, the fuller and thicker the result will appear.
Hair Shaft Diameter: Thicker hairs can lead to an aided appearance of fullness.
Hair/Scalp Color Ratio: Patients with a lower hair to scalp contrast ratio typically experience a thicker looking appearing result than those with a high hair to scalp contrast ratio, even if all other variables are the same.   However, this additional appearance of fullness is just an illusion.
Degree of Hair Loss:  The more hair loss a patient has, a greater number of grafts will be necessary to achieve the same results as someone with lesser degrees of balding.
To read more about this topic and contribute your thoughts and experience, join the discussion thread, What is the Best Type of Hair for Hair Transplant Surgery started by Hair Restoration Forum member "Newhairplease".
To determine whether or not you're a good candidate for hair transplantation and learn about the kinds of results you can achieve, you are encouraged to consult with one of our prescreened hair restoration physicians.   To see our standards for recommendation, click here.
____
David – aka TakingThePlunge
Assistant Publisher and Forum Co-Moderator for the Hair Transplant Network, the Hair Loss Learning Center, the Hair Loss Q&A Blog, and the Hair Restoration Forum
Get Proven Hair Loss Treatments at the Best Prices by visiting our new Online Hair Loss Product Storestyle="float: right; margin: 5px;"
Technorati Tags: hair restoration, follicular unit, hair transplants, hair transplant, follicular unit grafts, Hair Loss, balding