In September of 2016, the International Society of Hair Restoration Surgery (ISHRS) held its annual scientific meeting in Las Vegas, NV. The annual meeting brings together many of the world's leading hair restoration physicians and hair loss researchers to discuss advancements in medical and hair transplant surgery.
Background on the ISHRS
The International Society of Hair Restoration Surgery (ISHRS) is the most prominent professional organization for hair restoration in the world. Their primary mission is to educate hair surgeons ranging from the novice to the expert. Their website (http://www.ishrs.org/) provides useful information about hair restoration and profiles and contact information for its hundreds of worldwide physician members.
At the meeting, Dr. Ken J. Washenik replaced Dr. Kuniyoshi Yagyu as the acting President of the ISHRS for the coming year. Congratulations to Dr. Washeni for receiving this high honor.
Physician Recognition and Awards
Congratulations to the following award recipients:
Coalitionhair transplant surgeon James E. Vogel was awarded the Golden Follicle Award for his role in developing innovative hair restoration techniques and furthering the advancement of hair restoration.
Dr. Gholamali Abbasi won the coveted Platinum Follicle Award for outstanding achievements in basic science and clinically-related research in hair pathophysiology and anatomy.
Congratulations as well to Paul M. Straub for winning the coveted Manfred Lucas Award for his many contributions to the advancement of physician and staff education.
This year, the Distinguished Assistant Award went to Brandi Burgess of Carolina Dermatology Hair Center, home of Coalition hair transplant surgeon Dr. Jerry Cooley.
Presentations of Interest to Hair Loss Sufferers
Below are the highlights of the exciting presentations from our recommended and Coalition physicians – and other hair loss experts – at the 2016 ISHRS conference:
Graft Survival Rates: The Effects of Stress and Temperature on Follicular Units – Dr. Michael Beehner

The success of any hair transplant surgery hinges on the survival of the follicular unit grafts that are harvested and subsequently implanted to the balding areas of the scalp. Tools, techniques and procedures in both strip and FUE have continued to advance over the past decade or so and this has allowed many hair transplant surgeons to perform large sessions exceeding 2,500 grafts in a single day. However, due to the fragile nature of these grafts, concerns about hair growth successrates during large "mega-sessions" have lead some surgeons to experiment with their handling protocols and storage solutions.
In an attempt to determine just how hardy these grafts can be, Coalition hair transplant surgeon Dr. Michael Beehner devised a study to measure the effects of six different stresses on them and also if storage in a cold medium resulted in increased graft survival. His findings are summarized below:
Objective:
His objectives were twofold: first, to study the relative effects of six different stresses upon graft survival in hair transplantation, and secondly, for each of these stress factors, to see if storing the grafts in cold medium resulted in increased graft survival.
Materials and Methods:
A 54-year-old male with VI hair loss on the Norwood Scale along with adult onset diabetes, mild hypertension and hypothyroidism – all under good medical control. He did not use Rogaine (minoxidil) or Propecia (finasteride). Seven pairs of study boxes were created in hairless scalp areas. They were outlined with light brown tattoo dots and a 2mm wide surrounding "moat" of bald skin. Each box measured 11mm x 11mm. Twenty-five 2-hair follicular unit grafts were placed within each study box.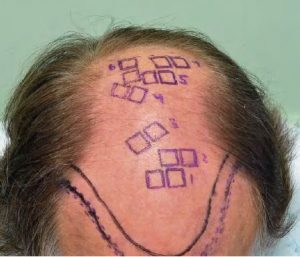 The grafts were produced using the standard strip technique, followed by slivering and dissection under 10x power stero-microscopes. All of the study grafts were stored for two hours after dissection in their respective petri dishes with Plasmalyte solution at room temperature in half of them and at 4 degrees Centigrade for the other half. Hair counts were conducted at the 8-month point after surgery. A second count will be conducted at 11 months, with these additional results being shared at the time of the meeting. The recipient sites were made with 1mm wide custom-made lateral slit blades. A total of 350 grafts (700 hairs) were involved in this study. One pair of study boxes served as "controls" with no stress involved in relation to the grafts.
Each of the six stress factors will be described here:
1% Hydrogen Peroxide: The grafts were "dunked" into small medicine cup filled with a diluted peroxide mixture for 30 seconds (2 parts saline to one part 3% hydrogen peroxide, the strength regularly sold in stores. The grafts were replaced into their respective cold or room-temp. solutions immediately after the period of stress for this and the other five stress factors listed below.
3% Hydrogen Peroxide: Dunked into solution same as with 1% peroxide for 30 seconds 18 minutes drying on gauze: Grafts were laid out on regular gauze in room air for 18 minutes, then re-positioned back into their respective solutions
"Soft" Crush of Bulge: Small "mosquito" hemostat with soft rubber covering over ends used to squeeze the FU graft at the approximate level of the germinal "bulge"
"Hard" Crush of Bulb: Small "mosquito" hemostat used to crush bulb at the end of the follicle. No covering was over the ends of the hemostat.
"Soft" Crush of Bulb: Small "mosquito" hemostat with soft rubber covering over ends used to squeeze both of the bulbs of the follicles
Results: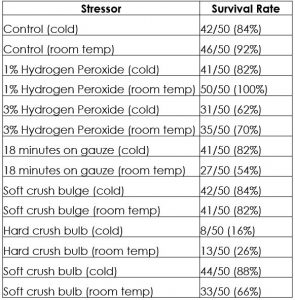 Summary:
This study showed no convincing evidence that grafts stored in cold solution did better than those stored in room temperature solution. It appears that grafts can be exposed to air and survive a lot better than was previously supposed. The harmful effect of full strength 3% hydrogen peroxide on grafts was once again confirmed and the relative safety of using a 2:1 diluted solution was hinted at with the results shown. "Soft" trauma to the follicles in the regions of the bulge and the bulb in this study resulted in a moderate reduction of graft survival.
Benefits and Limitations of Robotic Assisted Follicular Unit Graft Selection – Dr. Robert Bernstein

Dr. Robert M. Bernstein, an esteemed member of the Coalition of Independent Hair Restoration Physicians, presented the results of a bilateral controlled study on a recent update to the ARTAS Robotic FUE System that allows it to select follicular units based on the number of hairs they contain in order to increase the amount of hair obtained while limiting the number of recipient wounds.
Method:
This bilaterally controlled study was performed on twenty-four (24), first-time hair transplant patients undergoing robotic follicular unit extraction for androgenic alopecia. The ARTAS robotic system (version 7.x) was used for harvesting. A 19-gauge dual-punch system was used which consisted of a 0.9mm (ID) sharp punch and a 1.1mm (ID) dull, punch rotating at 3,000 RPMs. The donor sites were spaced a minimum of 1.7mm apart.
One side served as a control (disable) and the other the experimental side (enable, two-pass). Side selection was randomized. Four grids (2cm x 2.5cm) were used on each side. (Figure 1) The remainder of the harvesting was completed using the information obtained from the initial grids and the needs of the patient.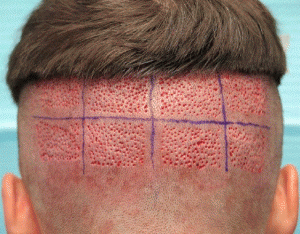 The measurements include: the number of harvest attempts (HA), the number of grafts, and the number of individual hairs. Hair and graft counts were made using a Meiji stereo-microscope at 10x resolution. The calculated values were hairs/HA and hairs/graft.
The study measured the percent change (increase) in hairs/HA after one-pass of the two-pass algorithm compared to the random (disabled) mode and the percent change (increase) in hairs/HA after the two-pass technique compared to the random (disabled) mode. The same calculations were performed for hairs/graft. Any percentage increase of either the one-pass or two-pass techniques over the random mode, with respect to hairs/HA and hairs/graft, was considered to represent the "clinical benefit" of follicular unit graft selection.
Results:
Results showed that, compared to random follicular unit harvesting (disable mode), robotic follicular unit graft selection produced more hairs per harvest attempt (one-pass 2.60 and total for two-pass 2.50 vs. random 2.22) and more hairs per graft (one-pass 2.72 and total for two-pass 2.60 vs. random 2.44). Results were statistically significant at p<.01 using an unpaired two sample t-test. (Figures 2, 3)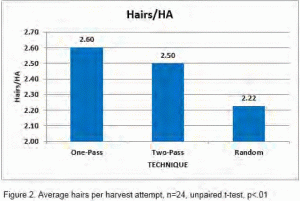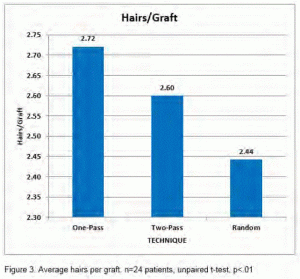 The clinical benefit of follicular unit graft selection (as measured by the increase in hairs per harvest attempt) after one-pass compared to the random mode was 17.0%. The clinical benefit of the two-pass technique compared to random harvesting (disable mode) was 12.3%. The clinical benefit (as measured by the increase in hairs per graft) after one-pass compared to the random mode was 11.4%. The clinical benefit of the two-pass technique compared to random harvesting (disable mode) was 6.4%. Results were statistically significant at p<.01 using an unpaired two sample t-test. (Figure 4)

Summary:
Follicular unit graft selection allows the clinician the ability to select larger follicular units during the harvest phase of an FUE procedure in order to maximize hair content and minimize wounding. Until now, this technique could only be performed by hand.
The higher number of hairs per graft (that exceeds the natural average) often necessitates that a portion of the larger grafts are dissected into smaller grafts, both to be able cover a larger area of scalp and to generate enough 1-hair grafts for the frontal hairline; therefore, the staff must be facile in stereo-microscopic dissection. Since dividing follicular units involves some potential risk to the viability of follicular unit grafts, the physician must decide the risk vs. reward benefit of this technique on a case-by-case basis.
Follicular Unit Graft selection will have the potential to deplete the donor area more rapidly than random graft selection, so the clinician needs to be mindful of this fact when performing a second session in the same area and must adjust the site spacing accordingly.
Since the introduction of robotic FUE in late 2011, a number of significant advances have been made in R-FUE technology. These include an improved optical system, refinements of the punch design, smaller punch sizes, faster punch rotation, a simplified user interface, and recipient site creation. Robotic follicular unit graft selection is another advance in the ever-evolving robotic system that is an important option for physicians performing FUE.
Is There a Best FUE Extraction Tool? Selecting FUE Tools to Maximize Graft Yield and Minimize Transection – Dr. David Josephitis

Dr. David Josephitis is a member of the elite Coalition of Independent Hair Restoration Physicians. In the following study he examines the potential benefits of varying FUE tool selection based on patient physiology.
Introduction:
Follicular unit extraction (FUE) has become a major modality in hair transplantation alongside that of FUSS (strip) for select patients. More physicians are gaining the necessary experience needed to perform a successful procedure. The types of devices and the techniques used for FUE have blossomed with this increased interest. Devices consist of manual, motorized, and robotic with the use of both sharp and dull punches. There are proponents of each type of device and punch. Although the data is lacking, physicians primarily use one type or another punch because of their belief in the advantages of it over another competing device. Although it can be easier to stay with one device, it has been seen with some substantiating data and even more clinical experience that different graft/skin types call for one device over the other.
Substantiating Data:
This presentation deals with the use of various FUE instruments for different patients. The devices used in the clinic were Harris blunt motorized SAFE Scribe, Cole sharp motorized, Cole sharp manual, and Devroye sharp/blunt motorized. Currently there are no studies that compare all of these devices in a head to head manner. Unfortunately, there are so many different situations and patient variables that preclude one from getting actual data comparing the instrument types. A study done by the author last year comparing the use of sharp vs.blunt showed that there is an overall benefit in using the blunt punch over the sharp punch when looking at transection rate in a majority of clinical situations. Some situations though, favored the use of the sharp punch. That small study gave some insight into having the sharp available for certain uses.
Images from 2015 Study Comparing Sharp vs Blunt Punches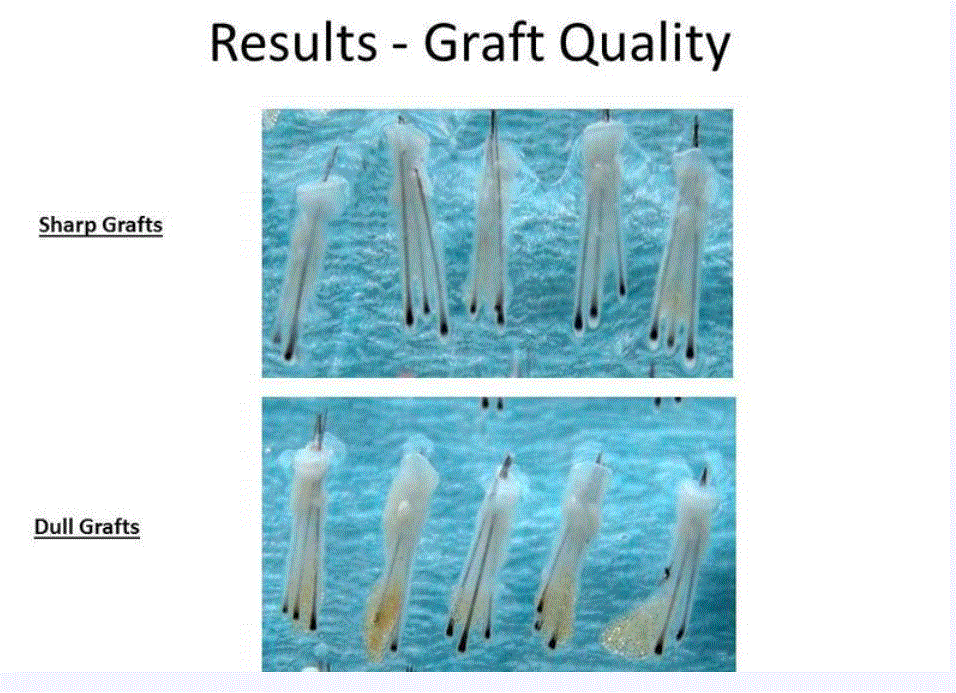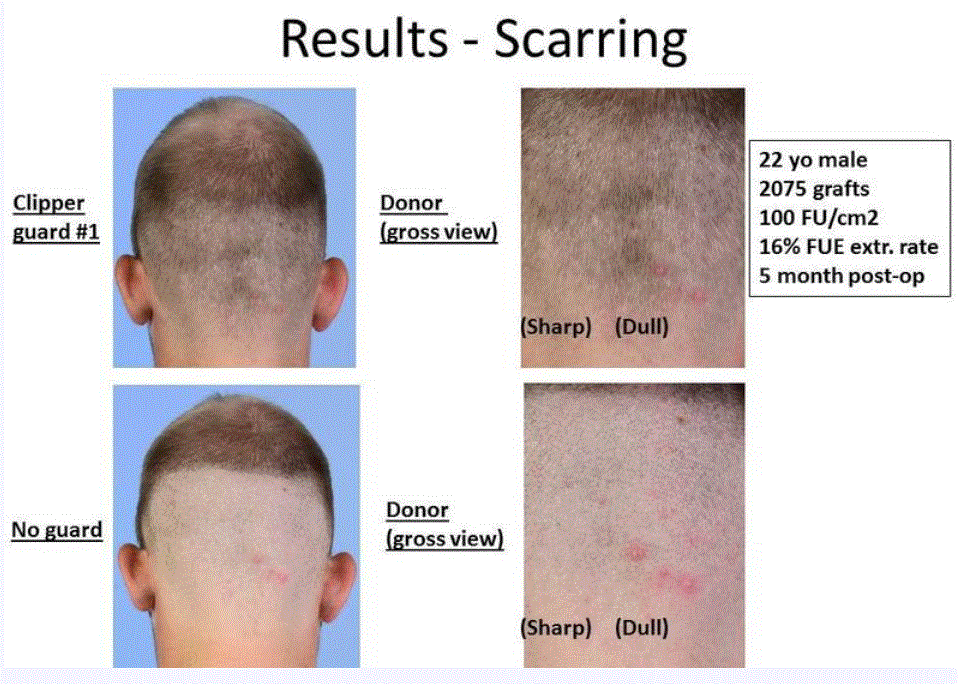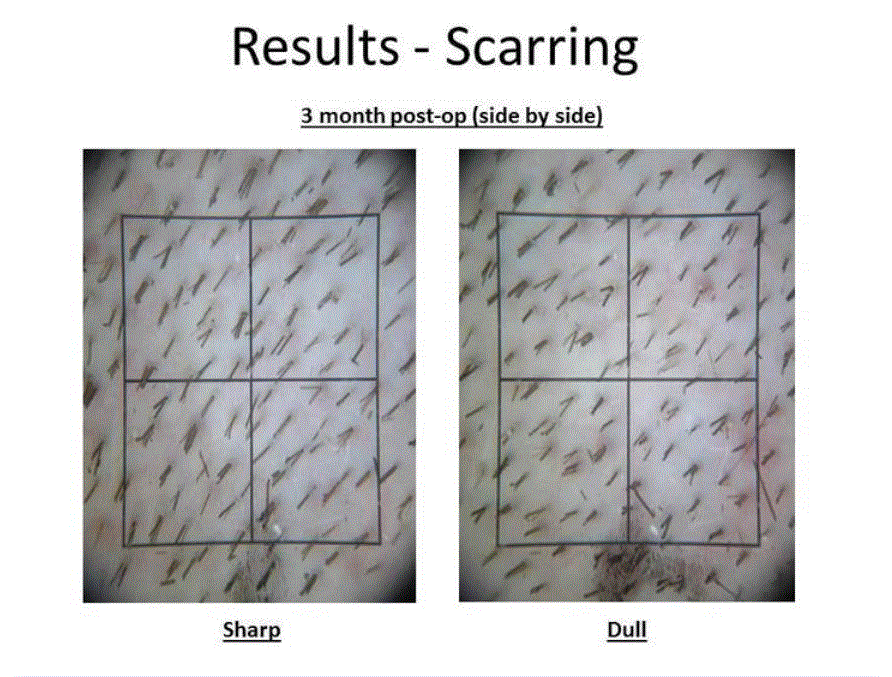 While the blunt motorized device, from the study, gave overall better transection rates, its number of missing and buried grafts was higher than the sharp motorized. The number of missing grafts only increased in some patients with different or more challenging skin types. Friable and hyper-flexible skin, while still maintaining lower transection rates, tended towards even higher missing grafts. Certain areas of the scalp also decreased the utility of the blunt device as the nape of the neck becomes much more challenging in some patients. Very acute angles can pose similar problems with the blunt punch if not corrected for by the use of tumescence, patient positioning and traction.
Devroye's device, utilizing the sharp benefit of scoring the scalp along with an oscillating and blunt component able to punch deeper, allows for a larger population of patients to become good candidates. This allows a higher yield and maintains a low transection rate. Some patients have very acutely angled grafts which are challenging to remove with both blunt or Devroye's device. These cases may see improvement with the motorized or manual sharp punch. Also, certain tissue types tend to move a great deal with the blunt devices and are better suited for the sharp punch.
Summary:
There may be more than one way to do an FUE procedure. By using a variety of FUE devices physicians may be able to maximize graft yield and minimize transection. Some supporting evidence and clinical data show that certain FUE instruments and techniques appear to work better on patients with different skin or graft characteristics. This varying of devices may show benefit for even those practitioners with much experience in one type of device over another. It may be challenging to keep one's experience level high with many devices, but if there is even a small benefit of one device over the other in a particular situation, the patient will benefit and the overall results will show.
FUE vs Strip: Hair Transplant Donor Depletion– Dr. Humayun Mohmand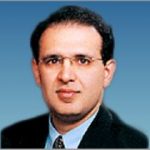 In this study, recommended hair transplant surgeon Dr.Humayun Mohmand examines the prospects of FUE-only hair restoration and its impact on the donor harvest area.
Objectives:
A new breed of hair transplant surgeons are being trained, both humans and robots, who are only getting training/programming in the follicular unit extraction (FUE) method of hair restoration surgery.
This will have an impact on the future of patients who would be visiting these centers with robots and humans to extract only FUE grafts from the donor area.
So our objective was to evaluate the prospects of FUE only hair restoration and its impact on the donor harvest area. Is this a dangerous trend or is it a better choice?
Materials and Methods:
The study was undertaken in a private hair restoration clinic. Ten patients were enrolled for this prospective study. Only the first session patients were included in this study. Informed consent was taken from all the patients. In each patient, ten areas were marked each of 1 cm2 in two rows. The first row was marked in the midline at the external occipital protuberance. The 2nd row was marked 3 cm below this. On either side of these areas, two more areas were marked at a distance of 3cm equally, thus 5 boxes were made in each row. The 0.9mm blunt punch was used for extraction. Before and after extraction photographs, of all the areas were taken and the hair and grafts counting was done manually.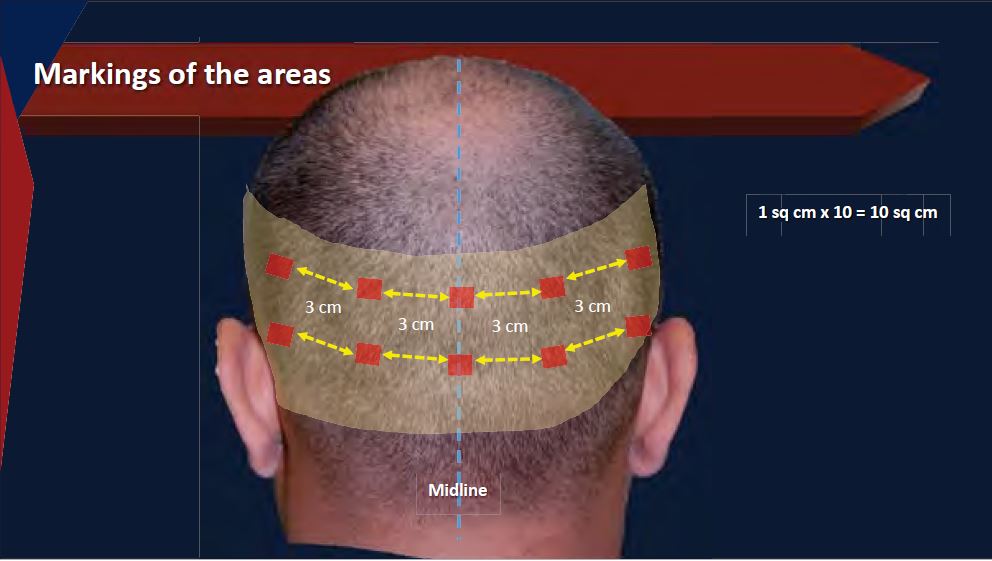 Results:
In each of the ten patients, the total area of 10cm2 was included (total 100 cm2). The average donor area density was calculated to be 154.8 hair/cm2. The average number of FUs extracted was 24.2 per cm2. The average hair count of the extracted hair was 54.9 hair/cm2. The ration of extracted FUs to hair was 1:2.26. This shows that on average. one person would extract 36% of the hair density in one session.
Conclusion:
This study clearly shows that, due to the cherry picking nature of the FUE harvest technique. one session donor density reduction would be equal to 36%. Considering the fact that more than 50% of reduction in density is visible to naked eye. If a surgeon would do two sessions he would surely reduce the density more than 60% to 70%.
If we calculate this, keeping in mind the best surgeons have a transaction rate around 5 to 10%, we would consider the hair count to further reduce by minimum of 5% taking it to 40% in one session.
This reduction of density, and knowing that hair thinning is an ongoing process over the period of 5 to 10 years another 10% thinning would occur, depleting the donor area to an extent that the patient donor area would become cosmetically unacceptably thin.
So, FUE harvest can only be done for one session. Other sessions should be for strip harvest to prevent severe depletion of donor area.
This clearly demonstrates that the breed of doctors/Robots who are getting trained/programmed today with only FUE surgery, would not be doing a service to the profession – but rather they would be creating a lot of problems in the future. For instance, we saw Pluggy looking punch grafts that was done by the top doctors of their time. We can learn from our past and correct the course of future for the benefit of patients at large.
Getting trained at FUE only and not getting trained for strip harvest, is not a vise decision for the new generation of or hair restorative surgeons. This is market driven decision headed by commercial companies with severe conflict of interest in their product selling.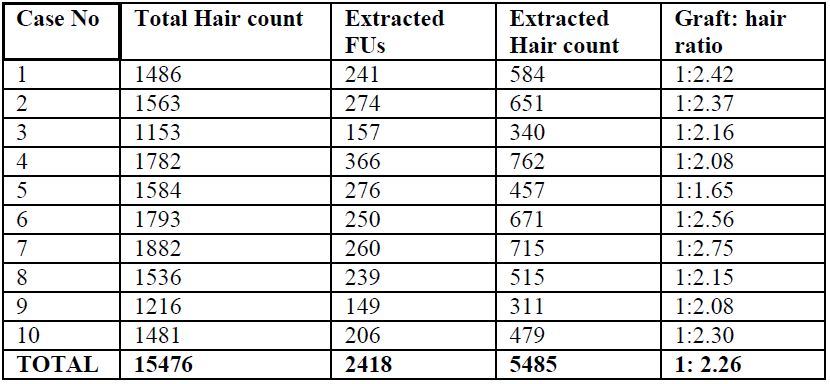 Maximizing FUE Growth Yield: Improving FUE Efficacy through Serial Extraction/Placement Technique – Dr. Parsa Mohebi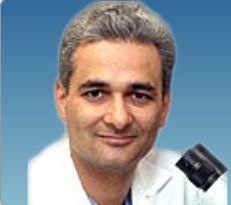 FUE hair restoration has improved in the last few years due to the advancements in instrumentation and enhanced understanding us about this procedure. Because of these new Follicular Unit Extraction (FUE) innovations, hair transplants have advanced to an incredible degree, and many of the problems that plagued both doctors and patients in past are not in the picture any more. One of these methods practiced by recommended hair transplant surgeon Dr. Parsa Mohebi in his practice over the last 2 years is the serial extraction and placement technique. In this study he demonstrates how serial extraction/placement can improve the final result of a FUE hair transplant.
Technique:
We decided to minimize the time that FUE grafts are waiting before being implanted through minimizing the gap between extraction and implantation of them. This method could minimize the out of body time and facilitate the transplantation of the extracted FUE grafts as in a short period of time.
This method requires changing the position of the patients a few times that avoids keeping the patients in the same
position and add to the comfort of the patient.
For the same reason it may improve the postures of the surgical team and breaks down the procedure into smaller sessions so the surgeon and the assistants don't have to stay in the same position for a long period of time.
There are several steps for application of FUE Serial Extraction/Placement technique are such as:
Making all sites before beginning with graft extraction
Plan for limited time of extraction followed by immediate placement of the grafts
Layer extraction from bottom to top to minimize the need for injection of local in the donor area.
Chasing method involves continued extraction after punching of each follicular unit.
2 per 1 technique makes sure there are two operator working on the patients at all time that enhances the efficiency of the procedure.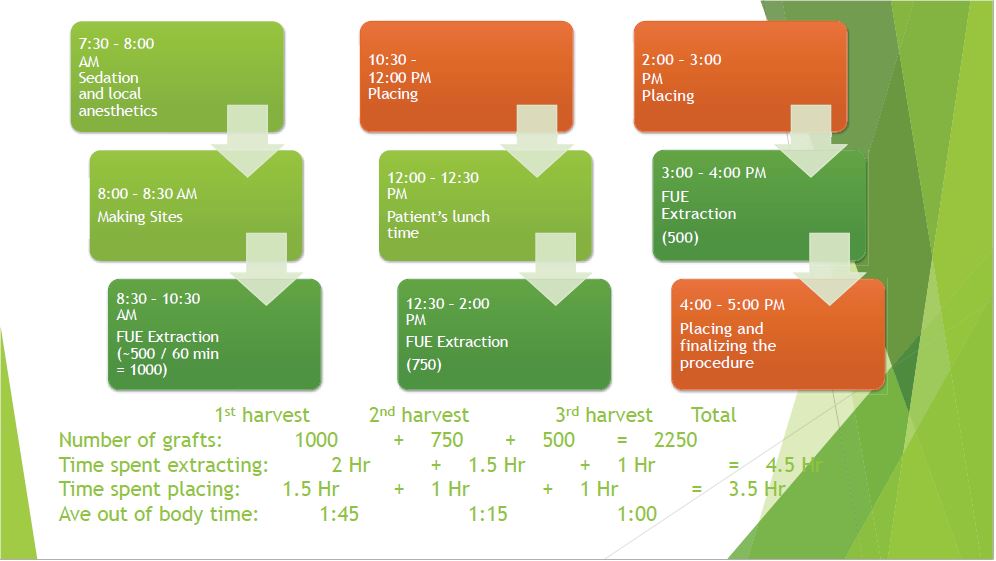 Conclusion:
FUE procedures with Serial extraction/placement technique offers several advantages that can help the efficiency of the procedure, patient's comfort and the outcome. This method in addition to the other advanced methods in FUE hair transplant can make the FUE more tolerable to the patients and guarantee an improved result.
Body Hair Transplants: Can Body Hair Only Hair Transplants Produce Desirable Results? – Dr, Kapil Dua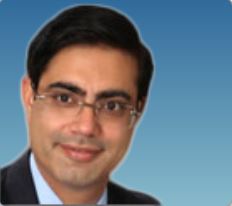 Recent developments in tools and techniques for follicular units extraction hair transplantation have helped make body hair transplantation (BHT) more popular among prospective hair transplant patients with a very limited donor supply. In most of these cases, hair from the chest or beard may be used as a supplement to scalp hair. However, in cases where scalp hair is not available, body hair may be used exclusively to cover a bald scalp.
Because there are so few presentations on the results of body hair grafts, recommended hair transplant surgeon Dr. Kapil Dua and his colleagues share the results of patients with only body hair implantation and answer the following questions:
A. Do Transplanted Body hair grow?
B. Do the body hair grow as long as the scalp hair?
C. What are the indications of extraction of hair from body parts?
D. Which type of body hair should be utilized for reconstruction of which area?
E. Are there any complications?
Discussion:
The source of body hair for transplantation can be various sites like beard, chest, abdomen, pubis, arms, legs and back but the beard and chest hair transplantation have the best success rate. The yield from body hair transplantation is relatively less and unpredictable as compared to scalp donor hair.
Complications:
Body hair transplantation has been associated with its own set of complications. Commonly encountered is the hypopigmentation at extraction sites. This is more pronounced over certain areas like chest and abdomen, particularly in dark-skinned individuals.
Hyperpigmentation has also been observed in certain cases. Hypertrophic scar formation at sites of body hair extraction has been seen.
Follicular transection rates are relatively much higher in body hair extraction (5-20% at our clinic) as compared to scalp hair extraction. Thus a high degree of expertise with proper alignment is essential to achieve the desired result.
Extraction of body hairs can also result in ingrown hairs over certain sites, especially in cases of coarse and curly hairs like on beard. Removal of the ingrown hairs with forceps and topical application of an antibiotic should resolve the problem.
If proper precaution and planning is not undertaken, a cosmetically unappealing donor area may result in body hair extraction. This can occur due to asymmetric reduction of hairs due to localized extraction areas. This becomes more pronounced in beard and chest areas. Hence proper planning is essential in the pre-operative phase.
Implantation:
The density is slightly decreased as compared to routine when the body hair grafts are used. If only body hair are available, then the authors prefer to use the beard hair grafts in more important areas as compared to chest or any other source owing to the better reliability and yield of the beard hair. A lesser density of around 25-30 FU/cm2 is given to have a better result.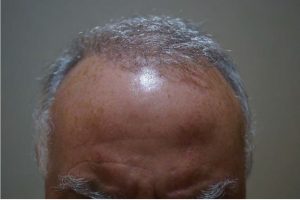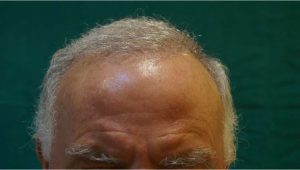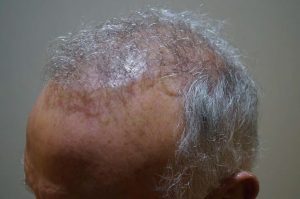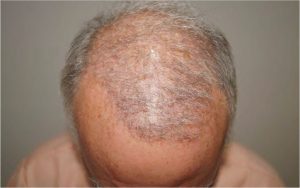 Summary:
Body hair transplantation using FUE technique is a novel and an emerging technique which provides a new lease of life to the art of hair transplantation in scalp- donor depleted patients. There is a relative lack of literature of cases of body hair transplantation and more information is needed to gauze the long term growth patterns in such cases. Thus this presentation will encourage other physicians to do test trials of few grafts from body and then go in in for larger sessions.
Topical Finasteride Compared to Oral Propecia – Dr. Piero Tesauro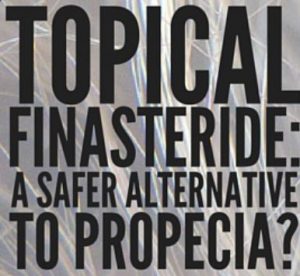 Introduction:
Finasteride inhibits miniaturization of hair follicles in patients with androgenic alopecia (AGA) by reducing dihydrotestosterone (DHT) levels. Oral administration of finasteride 1mg/day could be associated with side effects such as decreased libido, sexual dysfunction and gynecomastia (male breast enlargement.
Patients are afraid of these side effects and often leave/abandon therapy or decide not to start it. This encouraged us to look for new topical formulations which can guarantee a significant absorption of finasteride in the epidermis cells membrane but low at the systemic level.
Objective:
The purpose of this work was the evaluation of the effect of three different topical formulations on the finasteride skin permeation (liposomal gel or Carbopol gel or silicone+liposomal gel).
Materials and Methods:
In vitro analysis
We compare the in vitro skin permeability and retention of Finasteride 2.5% w/w contained in liposomes gel or Carbopol gel or silicone+liposomes gel. The experiments were performed with Franz diffusion cells using the human epidermis as a membrane. Finasteride permeated amounts were determined by Gas Chromatography (GC), while retained amounts into epidermis were measured by HPLC method.
Clinical study
We designed a preliminary 6 months study on 30 patients to evaluate the efficacy and the adverse effects of treatment with Finasteride 2.5% Silicone+Liposomal gel in patients with androgenic alopecia. All patients applied 1 ml of this gel 3 times a week on the thinning area.
Inclusion criteria: male sex, androgenic alopecia classifiable as Hamilton III vertex to Hamilton V, aged between
20 and 40 years.
First assessment performing 6 months after starting therapy with the evaluation of a sequence of standardized photographs taken before and after therapy.

Conclusion:
Preliminary evidence suggests that topically applied finasteride contained in a silicone-based liposomal gel at 2.5% w/w, 3 times a week, should be a valid option for patients who have had side effects with 1mg oral administration or in cases where it is preferable to avoid systemic therapy.
Meeting Summary
Thanks to the dedication of skilled and experienced hair transplant surgeons and other hair loss professionals, hair restoration (both medical and surgical) has continued to grow and advance. Our thanks to those physicians who attended this year's ISHRS meeting in Chicago and contributed to the writing of this presentation.
—-
Pat, Bill and David – The Hair Restoration Team for the Hair Transplant Network, the Coalition Hair Loss Learning Center, and the Hair Loss Q & A Blog.
Technorati Tags: International Society of Hair Restoration Surgery, ISHRS, hair loss, hair transplant, Hair Restoration, Golden Follicle Award, Platinum Follicle Award, Manfred Lucas Award, follicular unit, balding, FUE, hair growth, Norwood Scale, Rogaine, minoxidil, Propecia, finasteride, bald, ARTAS, Robotic FUE System, Follicular unit extraction, body hair transplantation, BHT, dihydrotestosterone, DHT