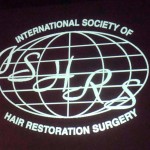 Every year, hair restoration physicians, medical assistants and others in the hair restoration profession from around the world come together to discuss the latest and greatest hair loss treatments at the annual International Society of Hair Restoration Surgery (ISHRS) scientific meeting.  Last week, the ISHRS held its annual 2011 scientific meeting in Anchorage, Alaska.
While the publishers of the Hair Transplant Network were unable to attend this year's ISHRS meeting, the below highlights from this year's conference came from interviews with several expert hair restoration physicians who provided this community with their feedback on the latest innovations discussed at this year's meeting.
Hot topics include updates on hair duplication (formerly known as autocloning) with ACell, follicular unit extraction (FUE versus FUT hair transplant surgery), causes of female hair loss, Propecia and whether or not it can cause permanent sexual side effects, robotic hair transplant surgery using the ARTAS Hair Restoration System, revolutionary tools for hair restoration including updates on the NeoGraft hair transplant machine, hair transplant graft survival rates, and the future of hair loss treatments.
Acknowledgements
A special thanks Coalition member Dr. William Rassman for providing details on many hot topics he found particularly interesting on his Balding Blog (www.baldingblog.com).  Much of Dr. Rassman's input on the meeting along with others are summarized below.
Other contributors to the below highlights of this year's ISHRS meeting include:
Dr. Jerry Cooley
Dr. Victor Hasson
Dr. Jerry Wong
Dr. Mike Beehner
Dr. Parsa Mohebi
Dr. Jim Harris
Dr. Ron Shapiro
Dr. Alan Bauman
Background on the ISHRS
The primary mission of the ISHRS (International Society of Hair Restoration Surgery) is to educate hair transplant surgeons ranging from the beginner to the master. It is by far the most prominent hair restoration professional organization in the world and the host of the five day annual scientific meeting. Their website (www.ISHRS.org) provides useful information about hair restoration and profiles and contact information for its 700 worldwide physician members.
Many of the physicians well recognized by patients online for achieving excellent results have also become well known and respected by their colleagues as leaders and teachers in the industry. Many leading physicians recommended by the Hair Transplant Network led or were a part of almost every discussion panel.
At the meeting, Dr. Jennifer Martinick replaced Coalition member Dr. Jerry Cooley as the acting President of the ISHRS for the coming year.  Congratulations to Dr. Martinick for receiving this high honor.
Physician Recognition and Awards: The "Golden" and "Platinum" Follicles

The "Golden" and "Platinum" follicle awards are the highest honors given to leading surgeons in hair restoration by the ISHRS at each meeting. These awards recognize outstanding achievement in basic clinically-related or scientific research in hair pathophysiology or anatomy as it relates to hair restoration.
Congratulations to recommended physician Dr. Jerry Wong of Vancouver, Canada who received the Golden Follicle and Dr. Paco Jimenez of Las Palmas, Spain who was awarded the Platinum Follicle.
To learn more about these prestigious awards and to congratulate these highly esteemed physicians, visit the discussion forum topic "2011 ISHRS Physician Awards: The Golden and Platinum Follicles".
Congratulations as well to recommended physician Dr. Bill Parsley for winning the coveted Manfred Lucas Award for his many contributions to the advancement of physician and staff education, including his long time role in founding and nurturing the International Society of Hair Restoration Surgery (ISHRS).
The critical role played by hair restoration technicians in preparing and placing grafts, was also recognized with a "Distinguished Assistant Award", which this year was awarded to Kathryn Morgan.   Kathryn has over 9 years of experience and is both the surgical and administrative assistant for Dr. John Gillespie, who is recommended on the Hair Transplant Network.  Kathryn will be attending the 3rd Annual Hair Restoration Workshop on October 14th through 16th of 2011 along with several leading hair restoration physicians and leading technicians.
Read the official press release.
Presentations at the ISHRS meeting of particular interest to Hair Loss Sufferers
Hair Duplication (formerly known as "Autocloning") and ACell

Hair Duplication (autocloning) allegedly works on the principle that a hair, when plucked properly, will emerge with its epithelial cells and follicular stem cells intact.  According to Coalition member Dr. Jerry Cooley at last year's 2010 ISHRS (International Society of Hair Restoration Surgery) scientific meeting in Boston, Massachusetts (view the highlights of the 2010 meeting by clicking here), applying ACell to the plucked hair and then implanting it into the scalp "stimulates the body's innate regenerative potential" to rebuild a completely new follicle including sebaceous gland and dermal papilla. Since plucked hairs also regrow in the original site, a potentially limitless donor supply is created, providing hair loss sufferers with the possibility of restoring a full head of hair.
According to Coalition member Dr. William Rassman, Dr. Hitzig, who is also well known for popularizing the use of ACell with hair duplication seemed to retract his stance that ACell works with plucked hairs in a bald scalp after Dr. Rassman shared his 0% success rate in growing new hairs using hair duplication procedure and ACell.  Hitzig's current view is that plucked hairs have to be placed into an area where hair is already present.  According to Dr. Rassman, this completely goes against previous reports that it can produce new hair.
Having conducted multiple hair duplication procedures over the last couple of years, Coalition member Dr. Jerry Cooley feels confident that his hair duplication procedure can be successful when done right and over time.  Below are a summary of his findings:
Results from hair duplication are delayed 4/5 months behind a regular hair transplant procedure.  Thus, a hair duplication patient at 9 months will look more like a standard hair transplant patient at 4/5 months.   Therefore, at 8 months, Dr. Cooley feels that it's far too early to see any new growth from a hair duplication procedure.
Hair duplication in conjunction with ACell works well when grafts are placed within existing hair (either transplanted or native) however, it is working poorly in completely bald areas.  The reason for this is unknown at this time.  For the average patient with significant existing hair, Dr. Cooley predicts nice thickening of the plucked hair between 12 and 16 months – however, a skeptic might look at before and after hair duplication photos and claim it's the lighting.  Dr. Cooley feels that macro photographs showing actual grafts growing is crucial.  To circumvent the problem of poor growth in completely bald areas and scars, Dr. Cooley has started transplanting plucked hair with regular grafts (FUT or FUE).  Dr. Cooley feels that the preliminary results with this approach are positive.
No hair duplication patient has had any thinning in the plucked areas of lack of full regrowth in the plucked area.
Many patients treated with ACell throughout their scalp experienced telogen effluvium (a temporary thinning of the hair) at 3-5 months followed by regrowth of thicker, more pigmented hair.
Dr. Cooley stated that one of his patients who had undergone a large  hair duplication procedure is showing nice thickening at 9-10 months similar to that of a hair transplant patient 5-6 months post-op.  So far, the patient is very pleased and has already booked another procedure.  Dr. Cooley also had two other patients booking second hair duplication procedures after seeing early results.  Dr. Cooley stated, "People don't pay for a second procedure that didn't work the first time!"
Dr. Cooley is convinced that the hair duplication procedure has merit and sees it continually evolving and improving as he learns more.  Stay tuned for a more comprehensive presentation of Dr. Cooley's findings in the coming weeks.
Follicular Unit Extraction (FUE) Versus FUT Hair Transplant Surgery (Strip) – Which is Better?
Which of the two revolutionary hair transplant techniques (follicular unit extraction FUE or follicular unit transplantation FUT) is "better" has been a hot topic of discussion on our popular hair loss forum for years.  But is there a definite "correct" answer to this question?  Or can both FUE and FUT peacefully co-exist and be viable options for patients seeking to restore their hair?  See "Can Follicular Unit Extraction (FUE) and FUT Hair Transplant Surgery Peacefully Co-Exist?" for more information.
Given its increased popularity and demand amongst patients, the follicular unit extraction (FUE) procedure garnered a lot more attention and discussion at this year's 2011 ISHRS scientific meeting.  After all these years however, physicians at the conference are still divided regarding whether or not FUE truly equals or even rivals traditional FUT strip procedures.  Below is a summary of a few of the many discussions about FUE at this year's ISHRS conference.
Coalition member Dr. William Rassman moderated a panel of 6 hair restoration physicians to debate the merits of follicular unit extraction (FUE) versus traditional FUT strip hair transplant surgery.  Dr. Rassman started the discussion by showcasing what he referred to as the "follicular holocaust".  In this 6840 FUE graft procedure spread out over 2 sessions, not only did the majority of the follicular units fail to grow, but the donor area was virtually destroyed.  The end result was a loss of 26,000 hairs and a massive failure of the FUE procedure.
The following input was provided and discussed amongst physician panel members after the presentation:
FUE is becoming increasingly popular and demanded more by prospective patients.  Data indicates that the number of FUE procedures performed will surpass the number of FUT procedures in the next few years.
FUE is relatively safe in the hands of experienced surgeons.  Everyone on the panel agreed with this because they all felt they were amongst the best physicians offering FUE.  However, Dr. Rassman commented that he can't imagine any doctor putting himself in a "bad doctor" category as shown in his presentation of the "follicular holocaust".
Damage to follicular units is being significantly reduced with physician experience and better tools resulting in better growth.
Dr. Bradley Wolf showcased a patient who had 1000 follicular units (total of 2000 grafts) transplanted on each side of his head using both procedures 1 day apart after 7 months of growth.  Both sides appeared to be about equal.  The patient reported no significant pain with either procedure and the scarring on both sides healed well with minimal evidence of scarring.
Dr. Suddleson argued that even most advocates of FUE routinely offered FUT to their patients and that FUT was the gold standard to which FUE would and should be compared.  Moreover, Suddleson feels that FUE is much more limiting per session than FUT.  He also laughed as he pointed out that at least one physician promoting FUE had reported excellent results on one of his FUT strip hair transplant procedure.
There was also a discussion concerning whether or not follicular unit extraction or FUE was better used for hair transplant repair or small cases rather than providing it as a first option for male pattern baldness.  Dr. Russel Knudsen of Australia argued that FUE was indeed more suited to smaller sessions.
Coalition member Dr. Ron Shapiro feels a little differently according to Patrick Hennessey, publisher of the Hair Transplant Network who recently had a discussion with him regarding the highly coveted follicular unit extraction or FUE procedure.  Dr. Shapiro is impressed with the way FUE has advanced in the past few years and feels confident that it's here to stay.  Dr. Shapiro also commented on its popularity amongst patients and feels that increased patient demand will cause more physicians to learn and offer FUE as a regular part of their practice.
Dr. Alan Bauman provided his own thoughts at this year's ISHRS meeting and feels that the benefits of FUE far outweigh the limitations.   Dr. Bauman recently cited the below key findings from the 2011 ISHRS Census.
Hair transplant procedures are becoming increasingly popular each year.  The total number of hair transplants performed worldwide in 2010 increased to 279,381, a 66 percent increase since 2004 and 11 percent since 2008.
Follicular unit extraction (FUE) is becoming increasingly popular each year while traditional FUT strip harvesting surgery continues a steady decline.
The number of FUE procedures, which was comprised of 11 percent of all hair transplants in 2008 has doubled to 22% in the last 3 years and tripled since 2004.
Traditional FUT hair transplant surgery dropped from 92 percent of all the hair restoration procedures performed in 2004 to 77.5 percent today.
Physicians disagree whether follicular unit extraction (FUE) will every fully replace traditional FUT hair transplants but most agree that the popularity of FUE is increasing each year.  Thus, given the increased popularity of FUE amongst patients, many leading physicians have dedicated themselves to garner more experience with FUE and continue to refine and innovate more effective tools to produce the same kind of impressive results as today's "gold standard" FUT procedures.
Updates on Propecia (Finasteride) and Sexual Side Effects
Can Propecia Really Cause Permanent Sexual Side Effects?
Scary rumors that Propecia (finasteride) can cause permanent sexual side effects were previously circulating and became a hot topic of discussion on our hair restoration forum and social community.  View "Can Propecia (Finasteride) Cause Permanent Sexual Side Effects" for more information.
Despite the internet rumors however, Coalition member Dr. Robert Bernstein, Dr. Dow Stough and Dr. Washenik point out that no case reports of continued sexual dysfunction after finasteride was terminated in patients who reported sexual side effects were found.  Moreover, because medical literature demonstrates sexual side effects are present in 40+ percent of men over the age of 50, it was difficult to assess the 2% occurrence of sexual side effects in a comparable population. However, this did not stop mandates that warning labels be changed in the United Kingdom, Sweden and finally, the United States.
This community encourages hair loss sufferers to read and consider all the information before deciding fact versus fiction.  Given the above information, it appears that rumors about Propecia causing permanent sexual side effects may have been overhyped.  However, because Merck now mentions permanent sexual dysfunction as a rare side effect in their product literature and because some legal actions have been taken in some countries (see "Class Action Lawsuit Filed Against Manufacturer of the Hair Loss Drug Propecia"), most physicians agreed that they should let patients know about this remote possibility.
Can Propecia Provoke Changes in Mood?
One case report and literature review presented at the 2011 ISHRS conference showed that finasteride may be responsible for mood changes in a small percentage of consumers.  In this study, one patient suffered from severe disabling mood changes while on finasteride which then ceased a week after stopping the medication.  Mood changes returned again upon taking Propecia for the second time.  Thus, evidence suggests that mood changes and/or other psychiatric issues may occur in some patients on finasteride.  Coalition member Dr. Rassman believes that finasteride is generally safe and that these case reports are the exception rather than the rule.  However, if a patient feels they're experiencing sudden changes in mood while on finasteride, they should discuss their concerns and whether or not they should continue taking Propecia with their doctor immediately.
Updates on the NeoGraft FUE Hair Transplant Machine: Addressing Concerns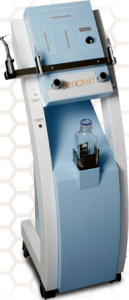 Last year, the NeoGraft Hair Transplant Machine was touted as the future of follicular unit extraction or FUE hair replacement surgery.  However, amongst the list of concerns reported by various hair surgeons was the potential for desiccation.  This dehydration of the extracted follicular units is one of the primary causes of poor hair growth.
At this year's meeting, Dr. Leonard and Dr. Bowman each hosted a discussion related to the suction-aided NeoGraft machine and described ways to potentially prevent the dehydration of the grafts during the extraction process.  Amongst these suggestions were keeping the humidity high in the operation room and attaching the suction tubing to a large bottle of saline until it was time to place the follicular units into balding areas.  It's surprising however, that NeoGraft didn't address this major pitfall themselves when designing their machine.
To learn more about the NeoGraft including a list of reported concerns, visit "Can the NeoGraft Hair Transplant Machine Revolutionize the Follicular Unit Extraction (FUE) Procedure?"
Hair Transplant Graft Survival Rates – Follicular Units Versus Larger Grafts
Today's hair transplants, when done right, are so natural that even professional hairstylists can't detect them.  But how successful are hair transplant procedures?  Does every hair transplanted into balding areas grow?  What is the survival rate of various types of grafts?
At this year's meeting, Hair Transplant Network's Dr. Mike Beehner provided a meta-analysis of all hair transplant growth studies to date including 44 different studies going back over 13 years.  34 studies were concerning follicular unit grafts (FUs), 5 concerned mini-grafts or multiple follicular units (MFUs), and 5 concerned larger grafts.  Data suggests the following survival rates: large grafts – 95%, MFU grafts – 95.8%, FU grafts – 89.7%.  However, more recent studies on "skinny" grafts with smaller more refined recipient sites indicate a 95% survival rate.
Data suggests that today's hair transplants, when done right, can be a very successful and permanent solution for many men and women looking to restore a natural looking head of hair.
Innovative Tools in Measuring Hair Loss and Performing Hair Transplant Surgery
Thanks to dedicated hair restoration physicians, new and exciting tools are regularly designed to diagnose and treat hair loss.  Below are a few innovations discussed at this year's ISHRS meeting.
LaxoMeter II For Measuring Scalp Elasticity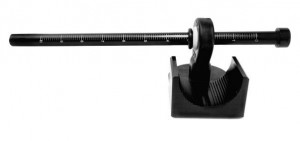 Dr. Parsa Mohebi presented the 2nd generation Laxometer (the Laxometer II) for measuring scalp elasticity at this year's meeting.  This impressive device accurately measures scalp laxity and precisely determines the amount of removable donor tissue prior to harvesting the strip of tissue during the "gold standard" follicular unit transplantation procedure.  Thus, this device can be very helpful in harvesting the maximum number of available follicular units while minimizing tension on the wound and post-operative scarring.
Using HairCheck to Make Diagnosing Genetic Hair Loss Easier
The HairCheck hair bulk analysis system, an impressive device used to accurately measure scalp hair mass and compare results over time using real numerical values, enables hair restoration physicians to more accurately diagnose genetic hair loss (androgenic alopecia) in men and women, even in its earliest stages.  Accurate diagnosis using this device may lead to a more appropriate and responsible use of proven and FDA approved hair loss drugs such as Propecia (finasteride) and Rogaine (minoxidil).
Considerations for Female Hair Loss
Many consider hair loss to be a condition that solely affects men.  However, millions of women who suffer from hair loss each year know that this isn't true.  Thus, the topic of female hair loss and how to treat it is a necessary topic and is typically discussed at each year's meeting.  Below are some of the discussions that took place at this year's 2011 ISHRS meeting.
In both men and women, it's suggested that an immune response in hereditary baldness may be an early sign that hair loss is about to begin or could start the process.  Dr. Neil Sadick of New York, an expert in female hair loss showed his results from scalp biopsies in women with hair loss at this year's meeting.  His findings were similar to conditions found in diseases such as the autoimmune disease lupus.  Thus, Dr. Sadick believes that female pattern baldness (FPB) may be caused by immune driven inflammation and may interfere with hair stem cell activity as hair enters into the anagen (growth) phase of the hair growth cycle.
Many women and some men during the initial phases of hair loss complain about pain and itching of the scalp.  Dr. Sadick believes that this set of symptoms, which reflects the inflammatory response, is always present but often ignored.  Thus, Sadick believes that if his connection is correct, men and women with hair loss may respond to the use of steroids on the scalp in the earliest phases of the balding process.
Advancements in Surgical Techniques
According, to Coalition member Dr. Bill Rassman, double trichophytic closures were demonstrated in a poster presentation, suggesting that this procedure can eliminate scarring from FUE in 99% of patients. However, Dr. Rassman personally doubts this claim.  Also, the presentation only reflected first time patients only who are at a much lower risk of obtaining significant scarring.  It will be interesting to learn more about the effectiveness of this technique as more information is unveiled and results are showcased.
Robotic Hair Transplant Surgery – The ARTAS Hair Restoration System for Follicular Unit Extraction (FUE)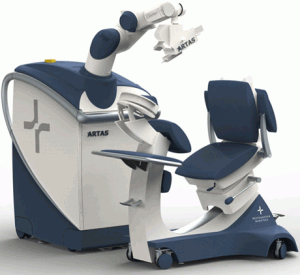 Restoration Robotics' recent innovation and FDA approved ARTAS Hair Restoration System for automating the follicular unit extraction (FUE) procedure was introduced for sale at the end of this year's 2011 ISHRS scientific meeting.  The ARTAS robotic hair transplant machine attempts to standardize the FUE hair restoration procedure by increasing the speed of extraction (allowing for larger single sessions) while automating the surgical process.
FUE expert and recommended hair transplant surgeon Dr. Jim Harris was the first physician to purchase the ARTAS Hair Restoration System.  To read more about Dr. Harris' acquisition of this potentially revolutionary device, visit "Dr. Jim Harris Purchases the First ARTAS Hair Restoration System for Automating the Follicular Unit Extraction (FUE) Hair Transplant Procedure".  To read an exclusive interview with Dr. Harris about this device, visit "Dr. Harris Answers Critical Questions about the ARTAS Hair Restoration System for Automating the FUE Procedure".
While the idea of automating follicular unit extraction (FUE) or any surgical procedure is quite fascinating, whether or not it's a good idea is highly debatable amongst physicians and patients alike.   Claims that very little skill is needed to use automated devices has led some marketing giants to mass market their machine to the neophyte surgeons and untrained medical professionals.  Since no automated device or machine can adapt or make critical decisions during the procedure, many hair loss practitioners and veteran patients have expressed concerns that many who undergo surgery with an inexperienced physician using automated equipment may not achieve desired results.
Thus, while automation and new and improved devices can be impressive, it is highly critical that the ARTAS Hair Restoration System and other such innovative devices/machines be used under the direct supervision of a highly experienced and skilled surgeon who can adapt as necessary during the procedure.
The Future of Hair Restoration and Hair Loss Treatments
Whether or not a cure for hair loss will ever be discovered is unknown.  However, many future treatments show greater potential in helping balding men and women recover a full head of hair.  Read below for an update on several potential future treatments discussed at this year's ISHRS meeting.
Coalition member and winner of last year's Golden Follicle Award Dr. Damkerng Pathomvanich presented his recent and impressive findings on minoxidil as a systemic medication on patients.  When minoxidil is combined with spironolactone, Dr. Pathomvanich found that it can stop and even reverse hair loss in a multitude of patients when applied topically to the scalp.  While this sounds impressive, severe side effects (while risks were reported as minimal) such as weight gain, rapid heart rate, drops in blood pressure and fluid retention were reported.  Furthermore, to date, this systemic medication is not FDA approved in the United States and many other countries to treat hair loss.
Dr. Marty Sawaya provided evidence that there may be a connection between hereditary baldness and inflammation of the hair follicle and as a result, believes that DHT may have a direct impact on the inflammatory process. Given this new information, other prospective treatments for genetic hair loss and other hair and skin disease may evolve over time.
Apparently, other potential future treatments such as Histogen were discussed at the meeting.  Unfortunately however, we were unable to obtain information on these presentations.  If we are able to acquire information about any discussions regarding Histogen and/or other potential future treatments such as hair multiplication, we will append this section and add it.
Summary
The field of hair restoration is improving all the time thanks to experienced physicians dedicated to innovating new techniques and treatments.  A special thanks to all those physicians who attended this year's 2011 ISHRS meeting and are working for the best interest of patients.
—
Bill – Managing Publisher of the Hair Transplant Network, the Hair Loss Learning Center, the Hair Loss Q&A Blog, and the Hair Loss Discussion Forum and Social Community
Follow us on Twitter | Follow us on Facebook
Watch hair transplant videos on YouTube
Get Proven Hair Loss Treatments at the Best Prices by visiting our new Online Hair Loss Product Store
Technorati Tags: hair restoration physicians, hair restoration, hair loss treatments, International Society of Hair Restoration Surgery, ISHRS, hair duplication, autocloning, ACell, follicular unit extraction, FUE, FUT, hair transplant, female hair loss, Propecia, robotic hair transplant, ARTAS Hair Restoration System, NeoGraft, hair loss treatments, Dr. William Rassman, Balding Blog, Dr. Jerry Cooley, Dr. Victor Hasson, Dr. Jerry Wong, Dr. Mike Beehner, Dr. Parsa Mohebi, Dr. Jim Harris, Dr. Ron Shapiro, hair transplant, Golden Follicle, Platinum Follicle, Manfred Lucas Award, hair restoration technicians, Dr. Cooley, hair loss forum, hair transplant repair, male pattern baldness, Dr. Rassman, hair replacement, hair growth, FUs, mini-grafts, multiple follicular units, MFUs, Laxometer II, HairCheck, FDA approved, hair loss drugs, finasteride, Rogaine, minoxidil, women with hair loss, lupus, female pattern baldness, FPB, balding, spironolactone