The following response to a question from the Hair Restoration Social Community and Discussion Forums, was written by forum member "Gillenator".
16 days post hair transplant and my recipient hair color and thickness is very different from the native hair. I don't mean how close the hairs are together but, the size of the individual hairs. Is this normal and when that hair falls out and grows back in will it blend better? Thanks in advance.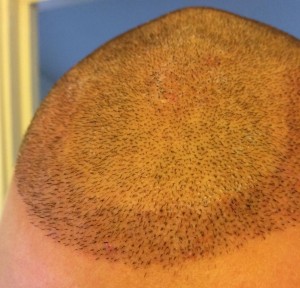 What you are seeing are the tips of the follicular unit grafts within the recipient area. They are the graft hairs that were harvested from your donor zone. This is terminal hair which is typically DHT resistant and therefore going to have maximum hair shaft caliber and appear fatter visually speaking.
The reason it appears thicker or fatter in caliber compared to the native hair is because the native hair is a bit diffused and thinner in caliber. Terminal hair is also typically darker or more pigmented than diffused hair.
And everything should look nice when it grows out…congrats on your recent procedure.
Gillenator
Supporting Hair Restoration Physicians: Dr. Glenn Charles, Boca Raton, FL – Dr. Jerry Cooley, Charlotte, NC – Dr. Jim Harris, Denver, CO – Dr. Robert True & Dr. Robert Dorin, New York, NY
—
David
Editorial Assistant and Forum Co-Moderator for the Hair Transplant Network, the Coalition Hair Loss Learning Center, and the Hair Loss Q & A Blog.
To share ideas with other hair loss sufferers visit the hair loss forum and social community.
Technorati Tags: hair transplant, follicular unit, DHT, hair loss