The following case was presented on our hair loss social community and discussion forums, by recommended hair transplant surgeon Dr. Sheldon Kabaker: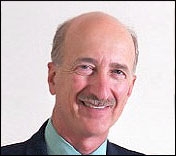 Myself and many other recommended hair transplant surgeons show early results of hair restoration surgery on younger men. Most of these men will continue to lose hair as they age and it is important that enough donor material is preserved for later work to maintain cosmetic hair coverage. This updated case deals with multiple procedures done over a 9 year span and followed 3 years after the latest fill-in procedure.
The patient had his first 1800 graft procedure at age 48 he had a second procedure one year later and is shown at age 51 with very satisfactory coverage. Over the next 6 years, gradual loss of native hair occurred, and a third session was done. The photographs illustrate results at different times.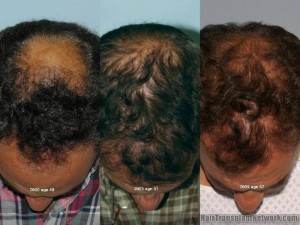 He is now 60 and three years after his last 1600 graft hair transplant and maintains good coverage with enough donor reserve for an estimated 2000 more grafts if ever needed.
To view more photos of this patient's results and comment on this case, visit the discussion topic, Dealing with the Progressive Nature of Male Pattern Baldness.
Dr. Sheldon Kabaker
—-
David (TakingThePlunge)
Editorial Assistant and Forum Co-Moderator for the Hair Transplant Network, the Coalition Hair Loss Learning Center, and the Hair Loss Q & A Blog.
To share ideas with other hair loss sufferers visit the hair loss forum and social community
Get Proven Treatments at the Best Prices by visiting our new online hair loss treatment shop.
Watch hair transplant videos on YouTube
Technorati Tags: hair loss, hair transplant, hair restoration, Baldness