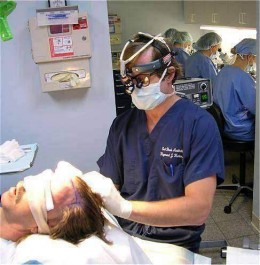 Are you interested in hair transplant surgery but unsure how to find a quality hair restoration physician? Today's ultra-refined follicular unit hair transplants, when performed by a skilled and experienced surgeon, are capable of producing perfectly natural and undetectable results. But, how can a prospective patient determine if the doctor they've chosen has the requisite skills?
Balding men and women seeking a surgical solution to hair loss increasingly turn to the Internet for answers. However, it's difficult to find quality answers if you don't know what questions to ask. For valuable tips and tricks for finding a world-class hair restoration physician, view the article, Choosing a Quality Hair Transplant Surgeon.
It's often said that the three most important steps to a successful hair transplant are research, research and research. No matter if you are first-time patient or a hair transplant veteran, following the advice in the above-mentioned article will help ensure that your next hair transplant is a success.
—-
David (TakingThePlunge)
Editorial Assistant and Forum Co-Moderator for the Hair Transplant Network, the Coalition Hair Loss Learning Center, and the Hair Loss Q & A Blog.
To share ideas with other hair loss sufferers visit the hair loss forum and social community
Get Proven Treatments at the Best Prices by visiting our new online hair loss treatment shop.
Watch hair transplant videos on YouTube
Follow us on: Facebook | Twitter | YouTube
Technorati Tags: hair transplant, hair restoration, follicular unit, hair transplants, Balding, hair loss