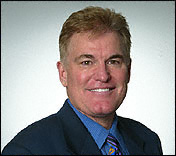 Renowned hair transplant surgeon and Coalition member Dr. Joseph Williams has long been known for his ultra-refined follicular unit transplantation (FUT). Recently however, Dr. Williams announced the addition of follicular unit extraction (FUE) to his Las Vegas, Nevada hair restoration clinic.
Dr. Williams is a member of the International Society of Hair Restoration Surgery and has been introduced to and adopted many advanced hair transplant techniques that are currently producing outstanding results. His artistry and attention to detail have earned him the respect of his colleagues and a place among the finest hair restoration surgeons worldwide.  This is why he's been approved for the Coalition of Indpendent Hair Restoration Physicians.  To see our demanding standards for Coalition membership, click here.
We are confident that the same standard of excellence that came to define Dr. Williams' strip surgery will also apply to his follicular unit extraction. Thus, we encourage hair loss sufferers considering FUE in Nevada and beyond to schedule a free consultation with Dr. Joseph Williams today.
For more information about Dr. Williams and his highly experienced staff click on his Coalition profile above. Also see the following threads from our hair loss forum and social network:
—-
Technorati Tags: hair transplant, Dr. Joseph Williams, follicular unit transplantation, FUT, follicular unit extraction, FUE, hair restoration, Coalition of Indpendent Hair Restoration Physicians, hair loss