On March 1st, 2012, the patent on Rogaine's popular foam topical expired and a generic version of generic minoxidil foam was finally released.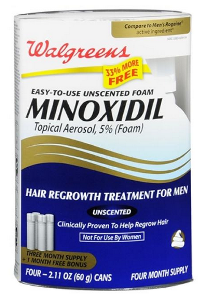 After reporting this exciting news on our Hair Loss Q & A blog, our hair restoration experts at the hair transplant network evaluated the product and decided to carry generic 5% minoxidil foam at the hair loss treatment shop.
The FDA initially approved Rogaine foam because of both its 85% regrowth rate and proven efficacy, but it was the product's usability that truly resonated with hair loss sufferers. Many minoxidil users preferred the foam (to the liquid) version because it was easier to apply to the scalp and did not "run" or "streak." However, despite the improved usability and ease, hair loss sufferers still experienced one significant issue with Rogaine foam: the price.
However, the price, in and of itself, was not necessarily the problem. The problem with the cost of Rogaine foam was the fact that hair loss sufferers did not have a generic foam option. For example, the difference between the Rogaine liquid and generic minoxidil liquid (5%) is an estimated $25 for a three month supply (with Rogaine liquid costing $49.99 and the generic liquid costing $24.99). Without the generic foam version, customers did not have the ability to compare and select a reasonable product within budget. However, with the release of the generic foam, minoxidil users now have the ability to utilize the foam version at reasonable cost!
To purchase your own supply of generic minoxidil foam, visit our online hair loss shop.
_________________
Blake – aka Future_HT_Doc
Editorial Assistant and Forum Co-Moderator for the Hair Transplant Network, the Hair Loss Learning Center, the Hair Loss Q&A Blog, and the Hair Restoration Forum
Follow our community on Twitter
Watch hair transplant videos on YouTube
Technorati Tags: Rogaine, generic minoxidil foam, Hair Loss, hair restoration, hair transplant, minoxidil foam, Rogaine foam, hair loss sufferers