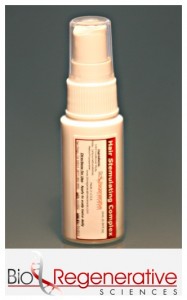 Lately it seems that every week a new stem cell-based hair growth treatment is announced. Most of these announcements are accompanied by tentative clinical trial dates and vague timelines for future release. Bucking this trend, BioRegenerative Sciences, Inc., a privately owned stem cell therapeutics corporation headquartered in San Diego, CA, recently announced the launch of a product it calls "Hair Stemulating Complex for Women".The women's product is now available for purchase with a second formulation for men currently in development and slated for release later this year. The question is; is there any substance to their claims of hair regrowth? A careful read of the company's website reveals no list of ingredients nor references to third party studies having been conducted. Consumers should be cautious when considering products that are marketed under such secrecy.
According to BRS, the Hair Stemulating Complex (HSC) employs a proprietary technology they refer to as S2RM which purportedly "nourishes the scalp's stem cell niche where the hair and the hair's pigmentation develop". The Stem Cell Released Molecules Technology (SRM) is based on the "identification, selection, culture, and stimulation of the appropriate stem cells and other molecules" and then the capture of those molecules released from the stem cells, including growth factors, peptides, collagen, cytokines, interleukins, anti-oxidants. BRS claims that this process captures what the stem cells normally release in the body and mimics the manner in which the body heals itself. The use of two or more stem cell types to produce the SRM is known as BRS S2RM Technology.TM

BRS further states that clinical trials in both men and women demonstrated that application of this topical hair loss treatment stimulates significant growth of new hairs, increases the thickness of existing hairs and also increases natural pigmentation of the hair in as little as 6 weeks (Click the image above currently found on their website for a larger view and demonstration of their claims).
While this may sound like exciting news, it is highly recommended that balding men and women continue to use credible and proven hair loss treatments like those available in our Online Hair Loss Product Store while researching and evaluating the efficacy of any new remedy. Over the years, many ineffective products have come along making lofty claims to regrow hair. To date, the only two clinically proven and FDA approved medical treatments for thinning hair are Rogaine (minoxidil) and Propecia (finasteride).
—-
David (TakingThePlunge) Forum Co-Moderator and Editorial Assistant for the Hair Restoration Forum and Social Network, the Coalition Hair Loss Learning Center, and the Hair Loss Q & A Blog.
Get Proven Hair Loss Treatments at the Best Prices by visiting our new Online Hair Loss Product Store
Technorati Tags: hair growth, Hair Stemulating Complex for Women, hair regrowth, HSC, S2RM, stem cells, growth factors, hair loss treatment, hair loss, regrow hair, thinning hair, Rogaine, minoxidil, Propecia, finasteride