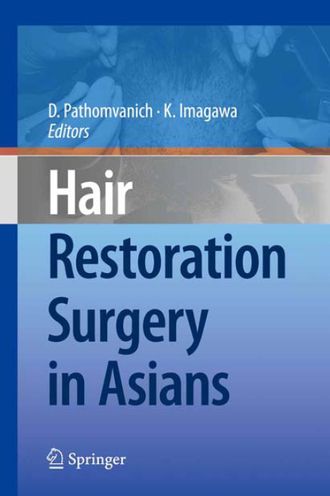 Because the quality, density and caliber of hair varies amongst many races, it's important that hair transplant surgeons take a unique approach to surgical hair replacement in various parts of the world.  
Recognizing this,  Dr. Pathomvanich of Asia  who is recommended on the Hair Transplant Network  and has vast experience on performing hair transplants in Asians  recently wrote a comprehensive book called "Hair Restoration Surgery in Asians".
Hair transplant physicians or anyone interested in learning how to produce the best results in Asian patients   is encouraged to purchase and read this highly informative book.
To buy this book now at a discounted price, click here
.

Bill  
Managing Publisher
Follow our community on Twitter
Watch hair transplant videos  on YouTube
Technorati Tags: hair transplant, hair replacement, hair transplants, Hair transplant physicians