I'm 22 and have had receding temples since I was 18. The rest of my head however is full of hair and has always been thick. I've recently finished using Rogaine for four months but there isn't really any difference. This problem has always been frustrating, mainly because I don't want to stay male forever. I have started going to a gender clinic and will be starting hormone replacement therapy (HRT) a bit later this spring.

I have just started using a hair stimulant from my gender clinic website which contains both minoxidil and female hormones. I spray and rub this formula well into my scalp every night before going to bed for three months.

Would using Propecia in conjunction with this hair stimulant be a good idea and do you know if HRT and the hair stimulant I now use, or HRT alone, would be enough to potentially get my original hairline back?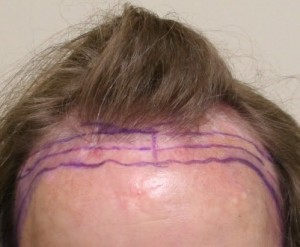 Unfortunately, today's medical hair loss treatments are not particularly effective for restoring a receding hairline. Propecia (finasteride) and Rogaine (minoxidil) are known to be more effective on a thinning crown and, even then, they are much more effective at retaining existing hair than regrowing hair on a completely bald area. HRT may reduce the likelihood of future hair loss but will not restore what you've already lost.
The most effective means of restoring a hairline is hair transplant surgery. In fact, transgender patients often undergo surgical hair restoration to restore and even create a more feminine hairline.
You may find the examples of hairline restorations on transgender patients below helpful. If you are interested in learning more about hair transplant surgery I recommend consulting with one of our prescreened quality hair restoration physicians.
Hairline Feminization 7544 total grafts by Dr. Alfonso Barrera, Houston TX
Dr Rahal Transgender Patient – 4044 Grafts – 4 Months
Feminization of male hairline; 2651 grafts; Dr. Mike Beehner
Dr. Pathomvanich – 33 years transgender after one sessions 2,572 grafts ,4,662 hairs
—-
David (TakingThePlunge)
Editorial Assistant and Forum Co-Moderator for the Hair Transplant Network, the Coalition Hair Loss Learning Center, and the Hair Loss Q & A Blog.
To share ideas with other hair loss sufferers visit the hair loss forum and social community
Get Proven Treatments at the Best Prices by visiting our new online hair loss treatment shop.
Watch hair transplant videos on YouTube
Follow us on: Facebook | Twitter | YouTube
Technorati Tags: Rogaine, hormone replacement therapy, HRT, minoxidil, Propecia, hair loss treatments, finasteride, regrowing hair, bald, hair loss