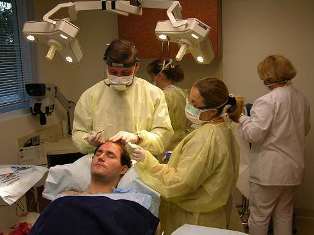 Dr. Bernie Nusbaum is a real gem in every respect. He is one of the most gracious, compassionate and humble men I've ever met, especially given his stature in the hair restoration profession.
As a hair transplant patient himself, Dr. Nusbaum has a keen sensitivity for patients that permeates his entire clinic and his surgical results. Dr. Nusbaum under went hair transplant surgery in the early 1980's to treat his own hair loss. As a trained dermatologist he then decided in the mid eighties to apply his talents to helping other hair loss sufferers restore their hair.Since that time Dr. Nusbaum has not only kept pace with improvements in hair transplant techniques but contributed his considerable skills and ideas in numerous international meetings and medical journals.
More recently Dr. Nusbaum and his staff have incorporated the use of very tiny custom cut blades that enable them to make tiny dense packed incisions that are as small as .7 mm. His highly experienced staff is capable of producing thousands of extremely refined grafts that are trimmed to fit in these tiny incisions.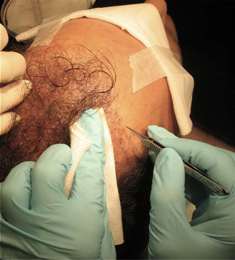 Dr. Nusbaum carefully orientates all the graft incisions in a manner to assure that the transplanted hair will grow out in at the proper angles and directions to maximize naturalness.
Follicular unit grafts that are carefully trimmed under microscopes are then placed into these tiny incisions.
This ultra refined technique enables Dr. Nusbaum and his staff to dense pack large numbers of grafts in a given area when appropriate for a particular patient. This enables patients to achieve good cosmetic density in one surgical session, while the small incisions minimize the trauma and disruption to the scalp and enable rapid healing and regrowth.This outstanding combination of commitment to the patient, experience, talent and truly cutting edge surgical technique makes Dr. Nusbaum and his clinic, the Hair Transplant and Dermatology Institute of Miami outstanding not only in Miami but worldwide.
View more photos of this hair transplant surgical visit.View more visits to leading hair transplant clinics.
.Pat Hennessey,
Technorati Tags: hair restoration, hair transplant, hair loss, dermatologist