Earlier this year, a group of hair loss sufferers started an online push to create a "bald Barbie" doll. Today, after a dedicated online campaign, Mattel (the company responsible for Barbie) officially announced the release of a bald Barbie in 2012.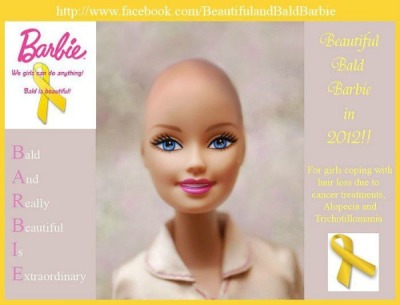 Jane Bingham, the co-founder and photographer of the "Beautiful and Bald Barbie! Let's see if we can get it Made" campaign wanted to bring more recognition and understanding to generalized female hair loss and specific conditions like chemotherapy induced hair loss and Trichotillomania (the obsessive pulling out of hair).
Bingham and friend/"Beautiful and Bald Barbie" co-founder Rebecca Sypin met while both of their daughters were experiencing cancer associated hair loss, and decided the bald doll was a perfect opportunity to create a better understanding of female baldness in today's society. Both women wanted a strong, bald role model for their daughters, and turned to Mattel and Barbie for help.
After visiting Mattel headquarters, the team eventually decided to both move forward with the bald Barbie doll and donate the product to female hair loss sufferers, children's hospitals, and the National Alopecia Areata Foundation.
Bingham, both pleased and extremely excited with the campaign stated:
We want girls to know they're not dependent on their hair for their self-worth and their beauty. Women and children, it's looked down upon that you would go out without your hair. People would automatically assume that you're sick and you should stay at home in bed. We wanted to change this stigma especially for girls because they don't have many people to look up to. 
Congratulations to the the "Beautiful and Bald Barbie" foundation!
___________________
Blake Bloxham – formerly "Future_HT_Doc"
Editorial Assistant and Forum Co-Moderator for the Hair Transplant Network, the Hair Loss Learning Center, the Hair Loss Q&A Blog, and the Hair Restoration Forum
Follow our community on Twitter
Watch hair transplant videos on YouTube
Technorati Tags: hair loss, bald Barbie, female hair loss, chemotherapy induced hair loss, Trichotillomania, female baldness, hair loss sufferers, Alopecia Areata