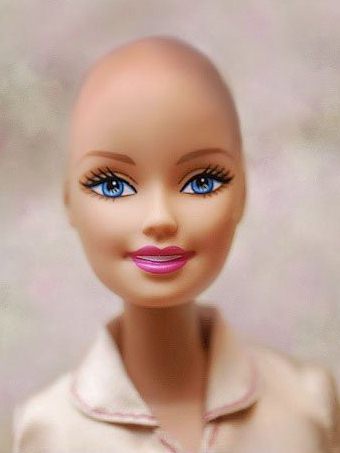 With her angelic face, unattainable physique and signature, flowing blonde locks, Mattel's Barbie has epitomized the American standard of beauty and glamour since her "birth" in 1959. But, if one group has its way, at least one aspect of Barbie's iconic look will receive a makeover this year. A grassroots movement born in the age of social media has created a Facebook page petitioning the toy maker to create a bald Barbie to "help young girls who suffer from hair loss due to cancer treatments, Alopecia and Trichotillomania" as well as for those who are having trouble coping with their mother's hair loss from chemotherapy.
Balding men and women of all ages understand the psychological effects of hair loss. Those suffering from androgenic alopecia or one of the many non-genetic causes know the feelings of helplessness and loss of self-esteem that can accompany thinning hair. But, this pales when compared to a child who is not only balding but also suffering from an incurable and potentially life-threatening illness.
As a community by and for hair loss sufferers, the Hair Restoration Forum and Social Network is committed to educating balding men and women about effective and proven hair loss treatments and we support the creation of a Bald Barbie. Perhaps we can't cure cancer but we have a unique opportunity to help alter society's perception of hair loss and, most importantly, put smiles on the faces of little girls who have forgotten what it's like to feel like a princess.
To lend your voice to the cause visit their Facebook page.
—-
David (TakingThePlunge)
Forum Co-Moderator and Editorial Assistant for the Hair Transplant Network, the Coalition Hair Loss Learning Center, and the Hair Loss Q & A Blog.
To share ideas with other hair loss sufferers visit the Hair Restoration Social Network and Enhanced Discussion Forum
Get Proven Treatments at the Best Prices by visiting our new Online Hair Loss Treatment Shop.
Follow us on: Facebook | Twitter | YouTube
Technorati Tags: bald, hair loss, Alopecia, Trichotillomania, Balding, androgenic alopecia, thinning hair, Hair Restoration, hair loss treatments, Bald Barbie