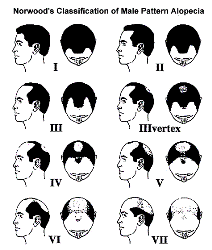 AskMen.com is an online publication covering topics that include Men's fashion, health, fitness, and entertainment.
However, in a recent publication, AskMen decided to turn its attention to male pattern baldness and share a series of hair loss prevention tips. Although these tips are not verified (to our knowledge) by hair restoration experts, they may be of interest to hair loss sufferers:
Tip #1: Eat More Fish
According to  the article, fish is high in protein, omega-3 fatty acids, vitamin D, and other essential minerals. Not only have these elements demonstrated hair loss prevention in chemotherapy patients, but they also promote general health and wellness (which is essential to healthy hair).
Tip #2: Monitor Iron Levels
According to AskMen, iron-deficient anemia (low levels of blood iron) is a common cause of male hair loss and also difficult to detect. Keeping iron levels reasonably high (by eating appropriate amounts of red meat and eggs or adding an iron supplement to your diet) can help prevent premature and unexpected baldness.
Tip#3: Monitor Vitamin B Levels
Like Iron, Vitamin B (biotin, folate, B2, B12) is crucial for healthy hair, and discussing vitamin B levels with a personal physician may be a good way to prevent hair loss.
Tip #4: Reduce Stress
According to the article, stress can cause hair follicles to spend unnatural amounts of time in the resting or telogen phase of the growth cycle, which means a reduction in new hair growth and an increase in keratinized hair shedding.
Tip #5: Read Prescription Drug Labels
According to AskMen, various prescription drugs (such as certain blood thinners, arthritis medications, and psychiatric medications) can cause hair loss, and this potential side effect should be reviewed before taking the medication. However, remember to discuss all side effects with a personal physician and follow his or her medication instructions exactly.
Tip #6: Practice Good Personal Hygiene
A lack of personal hygiene has been associated with certain infections, such as tinea capitis (a fungal scalp infection), that cause hair loss. Practicing good personal hygiene can help reduce or eliminate these potential risks.
Tip#7: Don't Hesitate to See a Doctor About Your Hair Loss
Hair loss is nothing to be ashamed of, and speaking with a personal physician about thinning hair at an early stage is a good way to stabilize and stop the progression before it becomes a significant issue.
Tip#8: Exercise Regularly
According to the article, exercise helps reduce stress, increase blood flow, and sweat can actually help clear impurities from the scalp.
Keep in mind that while these hair loss prevention tips are helpful and interesting, we still recommend researching and utilizing proven preventive methods such as Rogaine (minoxidil) and Propecia (finasteride) and seeing a hair restoration expert when thinning hair becomes a concern.
_______________
Blake Bloxham – formerly "Future_HT_Doc"
Editorial Assistant and Forum Co-Moderator for the Hair Transplant Network, the Hair Loss Learning Center, the Hair Loss Q&A Blog, and the Hair Restoration Forum
Follow our community on Twitter
Watch hair transplant videos on YouTube
Get Proven Hair Loss Treatments at the Best Prices by visiting our new Online Hair Loss Product Store
Technorati Tags: male pattern baldness, hair loss prevention tips, hair restoration, hair loss, hair loss prevention, male hair loss, baldness, telogen phase